On a weekend when patriotism is bolstered in tennis venues around the world, Fed Cup quickly ventured into nationalism with the disorderly conduct of Illie Nastase. Romania's Fed Cup captain and the former world number one and Grand Slam champion has never been known for his inviting temperament or appropriateness but he has been a symbol of Romanian tennis for decades. Like Raymond Moore, Nastase is of the old guard. His position has provided cover for his recklessness in word and action.
After a week of
racist
and
sexist
remarks, he was ejected from the Konta/Cirstea match due to his
boorish behavior
toward the umpire and his opponents. He allegedely called British team captain Anne Keothavong and Johanna Konta "fucking bitches".
Konta
was so traumatized, she left the court and the match was suspended. The ITF will be investigating the incidents and hopefully their response will be swift and apt. With no fewer than five disparaged people (Serena, Keothavong, Konta umpire, British journalist Eleanor Crooks) he is clearly incapable of controlling his temperament or prejudices. With the
Romanian tennis federation and players
dismissing Nastase behavior as passionate or eccentric humor, the ITF must uphold the sport's integrity and equality.
With all of the hoopla, its easy to dismiss the actual tie between Romania and Great Britain. Halep easily defeated Watson 6-4, 6-1 before Romanian player Monica Niculescu took Nastase's place in the captain's seat. Konta returned and took the racquet out of Cristea's hands to secure the second set and the match 6-2, 6-3. In press Cristea raged about
gamesmanship
.
Why did Konta start crying and saying she felt threatened at 3-1? I've been called much worse all over the world … Just because she is crying the match is stopped? That is not fair to me.

When she comes back on court she says: 'I'm sorry', so she knew she exaggerated. You don't do this, you stay and play. We treated you guys [the British team] so nice. I don't feel it's right that you put all this on us because we're a lower country than England [Britain].
---
On the other side of the world USA took on the Czech team at the Saddlebrook Resort in Tampa Bay, Florida. The green clay/outdoor event featured rather pricey tickets $35-80 dollars thus the far less the capacity crowd. The Americans have home court advantage and higher ranked players who are having a decent season. The favored team is led by new captain Kathy rinaldi-Stunkel.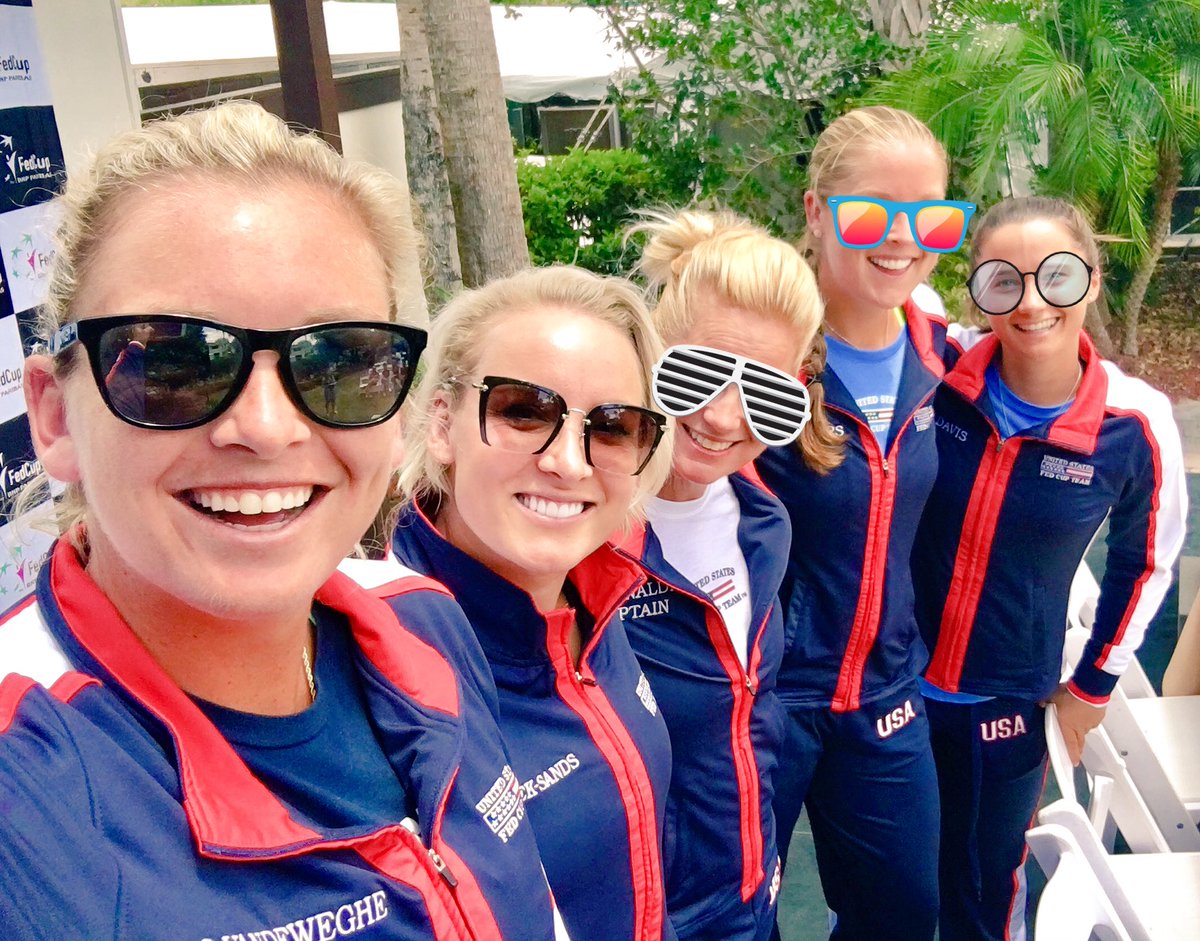 The American team includes CoCo Vandeweghe, Bethanie Mattek-Sands, Shelby Rogers and Lauren Davis. The Czechs have Katerina Siniakova, Kristyna Pliskova, Denisa Allertova and Marketa Vondrousova. The Czechs have become accustomed to winning. With five of the last six Fed Cup titles the Czechs will have to dig deep to take out the Americans who are playing for their first semifinal in seven years. Fan favorites on both sides of the net will be MIA: Serena, Venus, Keys, Pliskoava, Kvitova, Strycova, and Safarova.
Rubber 1
Vandweigh clearly dominated her opponent with her power, but her footwork and speed were most impressive. She still loses focuses rather easily. After a great set against Vondrousova 6-1, she riddled her second set with errors going for too much, taking risky shots and showing quite a bit of frustration going from 2-0 to 2-2 before wielding herself back by breaking the Czech. The breaks, frustration and racquet throws continued to 4-3. Securing the game at 5-3 she set out to break Vondrousova serve. She took the ball early, came in, sent back a sizzling return for match point, but Vondrousoa came back with some shot making of her own. Two points in a row she reach AD but double-faulted; Vandeweigh had opportunities but with two sloppy points she lost the game 5-4. Serving for the match, she was focused with aces or short  points. Vondrousova simply was no match for Vandeweigh's power game. 6-1, 6-4. With a scoreboard touchdown, USA took the lead and Vandewigh's presence was felt!
Rubber 2
Shelby Rogers got off to a slow start. Siniakova was the puppet master, using dropshots and even lobs to push Rogers around the court. Even with her seriously flawed serve she was able to control much of the match until Rogers finally got on the scoreboard at 4-1. Unlike Vandeweigh, Rogers kept her cool and played through it even when she was unable to hold serve. Down 5-2 she stepped up to the service line to extend the set and for the first time in the set, she held her serve for 5-3. Finally loose, Rogers showed Siniakova some variety with a slices and lobs but still couldn't come back from the hole she had dug losing it 6-3. She started the second set a little better but was never able to do much against the more aggressive player. With nineteen unforced errors in the first set and  twenty-four  in the second she had a bad day at the office losing 6-3, 6-3.
Day 1 Scoreboard
Though promotion and coverage was limited in America, thus far it has been a rather noteworthy Fed Cup weekend. For more on the other semifinal this weekend check-out
Fed Cup
or 
Excelle Sports
.
---
Rubber 3- Reverse Singles
Vandeweghe took the court against Siniakova confidently. Siniakova opened with good second serves to hold her serve, unlike yesterday when it was MIA. Vandeweghe punished her opponent with pace in the first point. She also varied her lethal serve to easily hold. With their first games complete, they settled into the match. At 2-2 Vandeweghe held her serves easily, keeping her opponent at love, while also making an impression on Siniakova's games until the fifth game when Siniakova held her at love.  In the sixth game Siniakova finally made an impression on Vandeweghe's game but eventually loses it after two deuces. She is have to put forth a lot of effort to handle Vandeweghe's heavy balls from far behind the base line. At 3-4, Vandeweghe delivered some great serves and short points for another solid hold. By the eight game, Siniakova was showing some fatigue and stress with  three double faults. The tenth game finds Vandeweghe serving for the set. She double faults and over hits another ball but cinched the set 6-4 with a beautiful wide serve and a down the line winner.
Toward the end of the first set, Siniakova looked like she tweaked something (maybe her left hip/quad), but she moved fine in the last game, so hopefully all is well. Down 0-3, she moved well but simply is outclassed by her opponent's serve, forehand, backhand, touch… Vandeweghe kept her focus even when she sprayed the ball or simply overhit it. This must be easier if you know your opponent doesn't have the weapons to hurt you and her game plan isn't working. The fifth game finds Siniakova off the scoreboard in danger of the dreaded bagel and she double faults the game away. Vandewehe secures USA lead 2-1.
Rubber 4= Second Reverse Singles
A fresh Davis takes on seventeen year old Vondrousova. She is the underdog though she is ranked eighty-one spots higher at #36. Vondrousova has the advantage of height, leftiness and the surface. The opening game was quite a see-saw until Vondrousova broke Davis. But wait, Davis attempts to break back and succeeds on her second break point. In the fifth game Davis had three double faults, losing her serve on an unforced backhand error. With 23 unforced errors and five double faults, Davis could not find her way to the net where she had more success. Down 2-4, she saved a couple break points but her opponent wrong footed her to secure a third break point and ultimately the game. Serving for the set, Vondrousova survived two break points to take the first set 6-2.
In the second set Vondrousova continued to push Davis back, drawing errors and outlasted her in rallies to take the second set 7-5.
Rubber 5- Doubles
So the doubles determines the winner. Mattek-Sands paired with Vandeweghe against Pliskova/Siniakova. Mattek-Sands/Vandeweghe have a definite advantage. they recently won Indian Wells. Vandeweghe's power strokes and Sands' touch is a winning combination, similar to Mirza/Hingis.
Pliskova and Siniakova were no match for the experienced American team who delivered a sound victory 6-2, 6-3.
Day 2 Scoreboard (Final)
In their first appearance in the semifinals since 2010, USA weathered the young Czech team to secure their place in the finals. They will face Belarus November 11-12 in Belarus; the surface has not yet been determined. Without the title since 2000, USA's odds are good but Victoria Azarenka will be back on tour and likely joining the Belarus team.