Will this be the year Nadal gets his tenth title at Monte Carlo? His draw is favorable; he did not have to contend with any top seeds, notably, Djokovic, Murray or Wawrinka.
Tournaments This Week:
Biyuan Cup Zhenghou Women's Tennis Open (China/Hard-court)

Monte-Carlo Rolex Masters (Monaco/Clay)

Fed Cup this week: USA vs. Czech  (Saddlebrook Resort in Tampa Bay, FL)
---
Top Moments This Week:
5. Glad to see that I only recognized four names in the Biyuan Cup Zhengzhou Women's Tennis Open draw. If you are not Chinese, there was little reason to play this very small hard-court tournament in the middle of clay season.
4.
Amade Mondiale Monaco
, a charity that looks after the welfare of children worldwide benefited from an exhibition. Coach Goran Ivanisevic's star-loaded team included Novak Djokovic, Marin Cilic, Tomas Berdych and Grigor Dimitrov. They played the  Jonas Bjorkman-led team of Dominic Thiem, David Goffin, Alexander Zverev and Mischa Zverev. Surprisingly, they performed for a half empty venue, but like the globetrotters, they had their skits
ready
…
3. When it comes to doubles pairings Djokovic/Troiki  and Feliciano Lopex/Marc Lopez. Alexandra Zverev/Misca Zverev are expected, as they are countrymen and have played before and are brothers but Wawrinka/Fognini and Haas/Treat are more surprising. These 'star pairings' often only win one round before bowing out to the doubles experts; only one of the aforementioned teams reached the semifinal (Lopez/Lopez).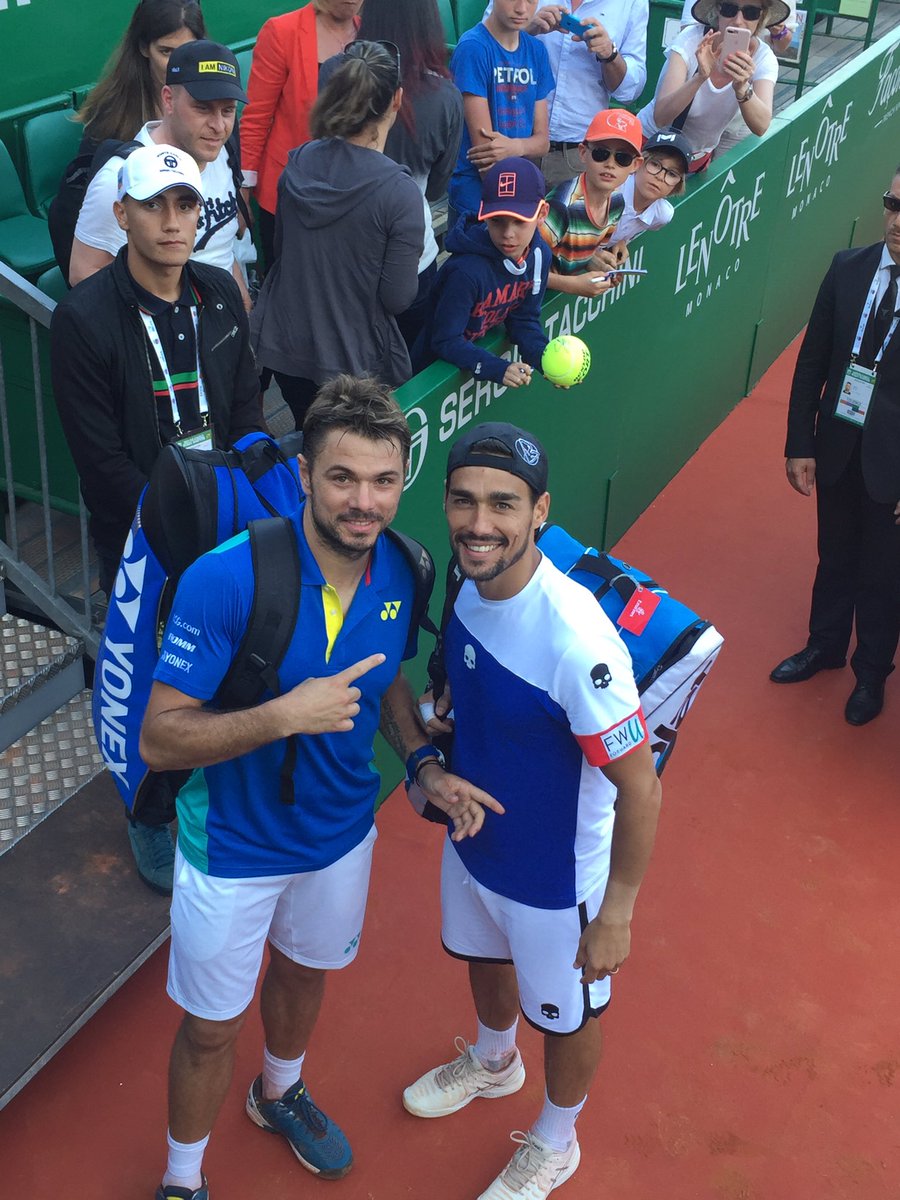 2.
 Similarly, the singles draw has been ridiculed  with upsets. In the third round, top seed Andy Murray fell to Albert Ramos-Vinolas, Thomas Berydych to Marin Cilic and Stan Wawrinka to Pablo Cuevas. In the quarterfinal round Novak Djokovic succumbed to Goffin  and Cilic to Ramos-Vinolas. Jo-Wilfred Tsonga also lost in the second round, with a first round bye; he is likely feeling the pangs of
new fatherhood
. Of these ousted players the most concern falls on Djokovic. Steve Tignor succinctly addressed this in 
Was Goffin's Win More About His Potential or Djokovic's Struggles?
…it was Goffin who did all the things Djokovic normally does to his opponents. It was Goffin who used his high, heavy cross court forehand to gain a court-position advantage. It was Goffin who pulled the trigger on his down-the-line backhand for winners. It was Goffin who sent his returns deep, and who pounced on short balls. It was Goffin who outlasted Djokovic in the marathon rallies, including a 27-shot point in the final game. And it was Goffin who survived, in much the same way that Djokovic has been surviving this week, 6-2, 3-6, 7-5, after an 11-minute final game.
I have long-held that tennis is a game of the mind not the court. Once a player loses his or her confidence, the match is lost. At his best, Djokovic played like he was reading a book while on a treadmill atop a carousel. Nothing shook him, until he looked up and then he stumbled. He seems to be having some difficulty climbing back on… Still ranked #2, he has not won a title since Doha this year and has been stuck at the quarterfinal round since then.
1a.
So Serena is
with child
! Congratulations to Serena and fiance Alexis Ohanian who are due in September. Regrettably, commentators, writers and players alike, shared perfunctory congratulations. Most were consumed with how her absence would affect the tour but in fact she has played very little the last few years. Her schedule was always lighter than most on the tour, and it has consistently decreased since her major injury, pulmonary embolism, in 2011. In 2013 and 2014 she played sixteen tournaments, 2015 eleven, 2016 eight and 2017 just two before the announcement. The WTA #1 now has a 
protected ranking
, much like Azarenka who is
returning
after her maternity leave to play the Bank of the West Classic in Stanford (July 31-Aug. 6).
The question now is how will the tour respond to Serena's absence? So will the likes of Radwanska, Pliskova, Konta, Halep, Wozniacki… finally win their first slam or will a slam holder rise-up to dominate the field, ie Kerber, Azarenka, Muguruza, Venus… By the way, Serena's coach, Patrick Mouratoglou,
believes
, "she'll come back, and she will come back all the more if everyone thinks she's done."
1b.
On her birthday, April 19, she got the most unexpected and cherished prize. Her nemesis removed her foot from  the accelerator and her neck… With Serena's pregnancy, no doubt Maria Sharapova's much-anticipated return will garner even more attention. The focus has gone from when will they play to who will challenge her now. All the concern over her
Stuttgart and Rome wild cards 
has dissipated, much like the debates over whether she should be given entry to the French Open and Wimbledon. The former will be decided by
May 15 officially
, but fans of the sport know that the slams will not make an example of this Grand Slam winner. Players have been rather vocal about Sharapova's wildcards.
Murray and Radwanska
have made their disapproval known, but Max Eisenbud 's response reverberated much like a Sean Spicer press conference. I guess a hit dog does holler loudly!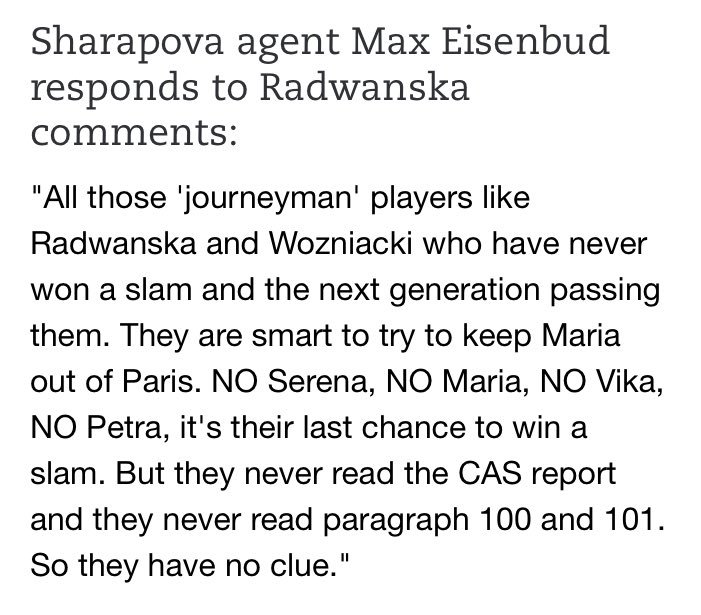 Check Out:
espnW's Katrina Adams interview  highlights her long and successful tennis career from player (college and professional) to commentator and ultimately USTA President. You have to wonder what she has planned for her next adventure; hopefully, she has WTA CEO on her radar!

This is misleading and presents an unfounded conclusion, but I enjoy the player's game, so check-out this piece. Joel Drucker: Schiavone & Player Development
Though Kvitova is on the entry list for Roland Garros, she may not be ready to play…
Stuttgart will determine WTA #1. Will it be Serena or Kerber?
The rebirth and renovation of Cuba's National Tennis Center by a group of Cubans and Americans is remarkable.
Romania's Fed Cup captain, Ilie Nastase, has made two derogatoy comments about Serena this month. His behavior has ripples of sexism and racism.
WTA's WTA Storylines
Tennis Channel's  ATP Storylines
Winners This Week:
Nadal, the only top seed remaining, is favored to win his tenth title at the prestigious tournament.
#2 Seed Quian Wang won her first title ( Biyuan Cup Zhenghou Women's Tennis Open) by retirement of Shiang Peng 3–6, 7-6 (3), 1-1

Nadal secured his tenth Monte Carlo Rolex Masters Title defeating Ramos-Vinolas   6-1, 6-3. And the doubles champions are Bopanna/Cuervas who outlasted Lopez/Lopez 6-3, 3-6, 10-4

Fed Cup this week: USA vs. Czech  (DAY 1)
Next Week:
Porsche Tennis Grand Prix (Stuttgart/Clay/Premier)
TEB BNP Paribas Istanbul Cup (Istanbul/Clay/International)
Barcelona Open Banco Sabadell (Spain/Clay/500)
Gazprom Hungarian Open (Budapest/Clay/250)
What were your top tennis moments this week?