While most players are off preparing for the clay grand slam, French Open '17, some are playing smaller tournaments this week. For the women that means Strasbourg or Nurnberger and the men, Geneva or Lyon. Hopefully these 250 and International level tournaments are uneventful after a week of headlines in Rome.
Picks This Week:
With home court advantage and defending her title Garcia as a tougher draw in Strasbourg with Wozniacki, Stosur, Vesnina and Gavriola.  Final: Wozniacki v. Gaviriola
In Nurnberger Bertens is defending her title. Her path is pretty clear, but Dodin, Doi or Shvedova may get hot. On the bottom of the draw Siegemund, Niculescu and Bouchard will battle it out for the final spot.  Final: Bertens vs. Siegemund.
France's newest tournament Open Parc Auvergne-Rhone-Alpes Lyon was blessed with Jo-Wilfred Tsonga as ambassador and some of the tour's most dynamic players including Kyrgios, Del Potro, Brown and Coric. Surprisingly, Monfils did not join his countrymen Paire, Simon and Mahut. It is troubling that so many, especially Kyrgios is playing singles and doubles the week before the French Open especially since he retired in Rome last week with a hip injury. Nevertheless, my final picks are oh my this is difficult but I'll go with Del Potro vs. Tsonga. I could have as easily gone with Raonic vs. Kyrgios.
Over in Geneva, Swiss Wawrinka is back to defend his title and support his country. The draw support a Wawrinka vs. Nishikora final but the former's play has been spotty and the latter's body often lets him down.
---
This Week's Top Moments:
Note, throughout the week, this is updated….
10. Though Agassi and Djokovic have no long-term commitment, they will work together in Paris next week. It will be interesting to see how this relationship progresses and how the player finds his game again, especially his much noteworthy consistency. The cynic in me wonders how much of this is for publicity/brand rehab.
9. I don't ever remember Tennis Channel airing French Open Qualifying Round Matches. Was this ever done before? Maybe its just filling a hole in their programming given the suspension of their relationship with the WTA. Also, interesting that TC hasn't bought rights to the new French tournament, Lyon. Finally, surprisingly TC is airing old WTA matches in their Roland Garros Rewind series this week. Sharapova and Halep is scheduled for Wednesday, Serena and Sharapova on Friday and Muguruza and Serena on Saturday.
8. There is much that troubles me about tennis, read my fan series and you get a glimpse, but the thing that is most troubling about the women players is the ever-growing reliance and in some cases dependence on coaches. Understandably, the sport can be overwhelming, especially at the top echelons, but too many players echo a sentiment of needing to please or make their coaches proud. This is more crippling than empowering for the player. For too many, this relationship is beyond surrogate father or lover; it feels more subordinate and cultish. Halep immediately come to mind, but there are plenty others. Then there is the combative and troubling relationships like Muguruza and her coach Sam Sumyk. Whether the player is set on pleasing or upsetting her coach, the focus has shifted from the court to a person. How does this help the player's game, especially her mental dexterity? Instead of focusing on on-court coaching let's think a little about the disparities in player/coach relationships when we compare the WTA and ATP.
7. On her Instagram, Simona Halep said that she has arrived early in Paris for treatment on Wednesday. Her MRI scan showed a torn ligament from the fall in Rome last week. Petra Kvitova, also arrived today.  Bouchard pulled out of Nurnberger due to an ankle injury, Laura Siegemund fell injuring her knee (torn ACL) and Del Potro has a neck and back injury. There is a 50/50 chance they will be ready for Roland Garros. With this the odd makers have to reconfigure the board!
6. Hall of Fames are generally only as important or meaningful as the sport's popularity and its induction is generally political. So it is no wonder that I have had very little interest in the International Tennis Hall of Fame. However, its recent amendments may have me reconsidering my stance. The four major changes is the addition of a fan vote, development of the one player category eliminating the Recent Player and Master Player categories, addition of automatic ballots and the wheelchair and contributor categories will move to a four-year rotation. The fan vote will certainly play well in social media and on television. The biggest change is the elimination of five year wait after retirement.  This change will result in immediate induction for the long list of players who we expect to retire in the next few years. Federer, Serena, Nadal, Bob and Mike Bryan etc… will not have to wait five years to be inducted. Their records will mandate an automatic ballot. I do wonder why major singles titles isn't more specific, that is grand slam vs. masters 1000 or premier mandatory tournaments which are major titles. Also, is there no moral or doping clause?
Criteria for automatic ballot inclusion on first eligible ballot will be:

Singles: Must have won 3 major singles titles and have been world No. 1 for a minimum of 13 weeks; Or, have won 5 major singles titles
Doubles: Must have won 12 major doubles titles and have been world No. 1 for a minimum of 52 weeks; Or, have won 15 major doubles titles

Players who do not meet the criteria for automatic ballot inclusion will have their career history assessed by the Enshrinee Nominating Committee (as has been done previously), who will determine if they should be placed on the ballot for voting by the Voting Groups.
 5. Margaret Court's many conservative and just plain ignorant public comments over the years have been fodder for the media. Her most recent comment on Dellacqua and her partner's new-born is no different. In another open letter she declared that she would no longer fly Qantas because of Alan Joyce's advocacy of same-sex marriage. Clarey's New York Times interview shows Court to be eager for acceptance and appreciation from the tour, though she is steadfast in her christian beliefs; she would say she does not hate homosexuals but she disagrees with the premise. The countdown has begun for a new name for the Margaret Court Arena in Australia.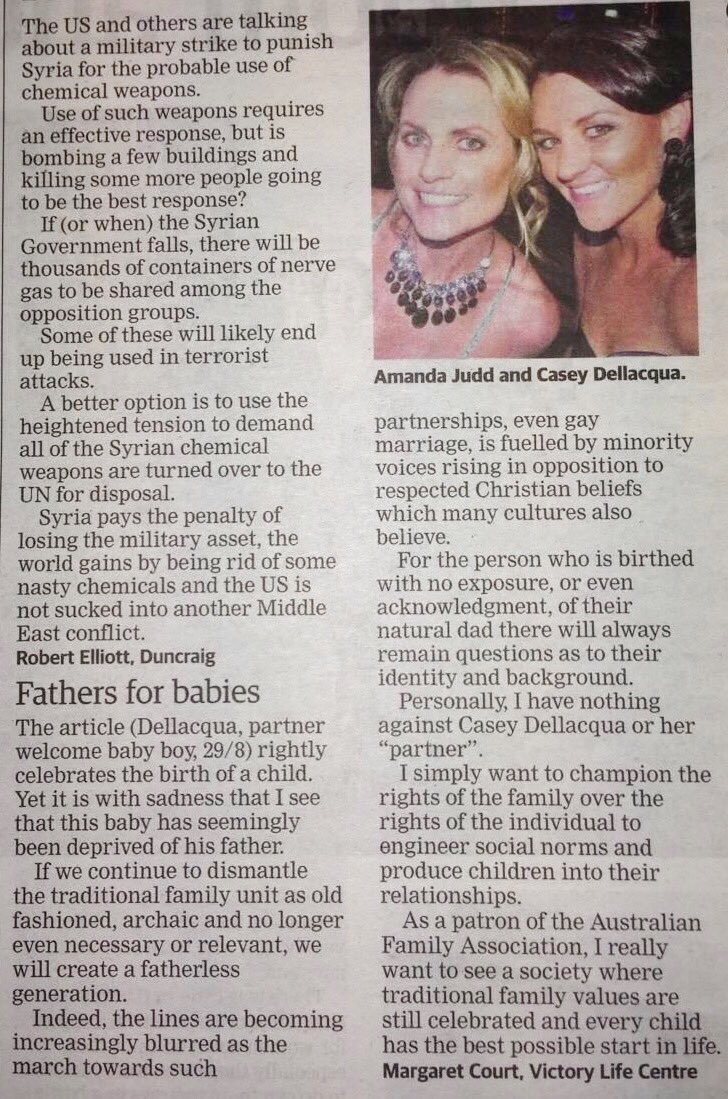 4. Why was the Lyon ATP Tsonga/Khachanov match shown on beIN under the WTA banner? WTA/Simon, you need to handle this travesty before you find this network ends up using you to get ATP tournaments' TV rights.
3. In her absence, Serena's presence is overwhelming. She is endorsing no fewer than three products currently in rotation, especially on sports networks: Tempurpedic, Chase (with Steph Curry), Mission Cooling Towels, Berlei, Intel/Wilson (with Jim Parsons) Gatorade Bars.
2. The weather for the first week of the French Open calls for a lot of rain. This will wreak havoc on play. Let's hope for the best.
1. When will the WTA get respect?  When will they demand it?
---
Check Out:
Venus Williams top ten points and shots.
Five Reasons Tennis is the weirdest sport: tantrums, clay ball marks, sweat-soaked towels, come-ons and grunting.
Yay, Azarenka is coming back and planning to enter a tournament before Wimbey.
The WTA Roland Garros Qualification Draw in stacked: Errani, Mattek-Sands, Hradecka, Razzano, Watson, Gibbs, Errani…
I wish there was a translated and transcribed version of this David Nalbandian interview.
Azarenka and Lisicki will return to the tour at the Majorca Open on June 19th.

Serena Williams joins board of Silicon Valley firm SurveyMonkey with a mission to diversify their workforces and solve one of the industry's most vexing problems.

What a big check will get you: Stefanie Graf will continue as Tournament Ambassador for the 2017 WTA Elite Trophy Zhuhai, Oct. 31 and Nov. 5.

Tennis media love to build what they believe are tried and true narratives. In Amanda Anisimova, 15, Is Ready for Her Grand Slam Debut the young phenom is touted as the youngest slam player since Cornet in 2005 to  enter the main draw, which she did via the wildcard challenge.

The Vice short provides an excellent synopsis of Serena Williams' career.

For the fanatic, Matt Wilansky's "The Changeover" does not highlight any new or unheard of player changeover rituals or behaviors, but occasional tennis fans will find this entertaining and informative. Oh, and the illustrations are top-notch.

Tom Perrotta's, "Rafael Nadal Looks Unstoppable Again" is a good summary of the Nadal comeback narrative.
Winners This Week:
Geneva Open – Wawrinka defeated M. Zverev -6, 6-3, 6-3 for the title.
Lyon Open – Tsonga edged out Berdych 7-6(2), 7-5.
Strasborg – Stosur outlasted Gavrilova 5-7, 6-4, 6-3.
Nurnberger – Bertens dominated qualifier Barbora Krejcikova 6-2, 6-1 for back-to-back titles.
Next Week 5/28:
Roland Garros (Paris/Outdoor Clay/Grand Slam)
What were your top tennis moments this week?