This slam promises to bring countless stories: upsets, injuries, withdrawals and even new stars. Beyond the Nadal storyline which marks the clay legend as the likely winner, there is a watchful eye on new guns Sasha Zverev, Kyrgios, Thiem… Then there is the injured bunch, who Sport 360 named the hobblers, Neishikori, Tsonga, Monfils, Kyrgios, Halep…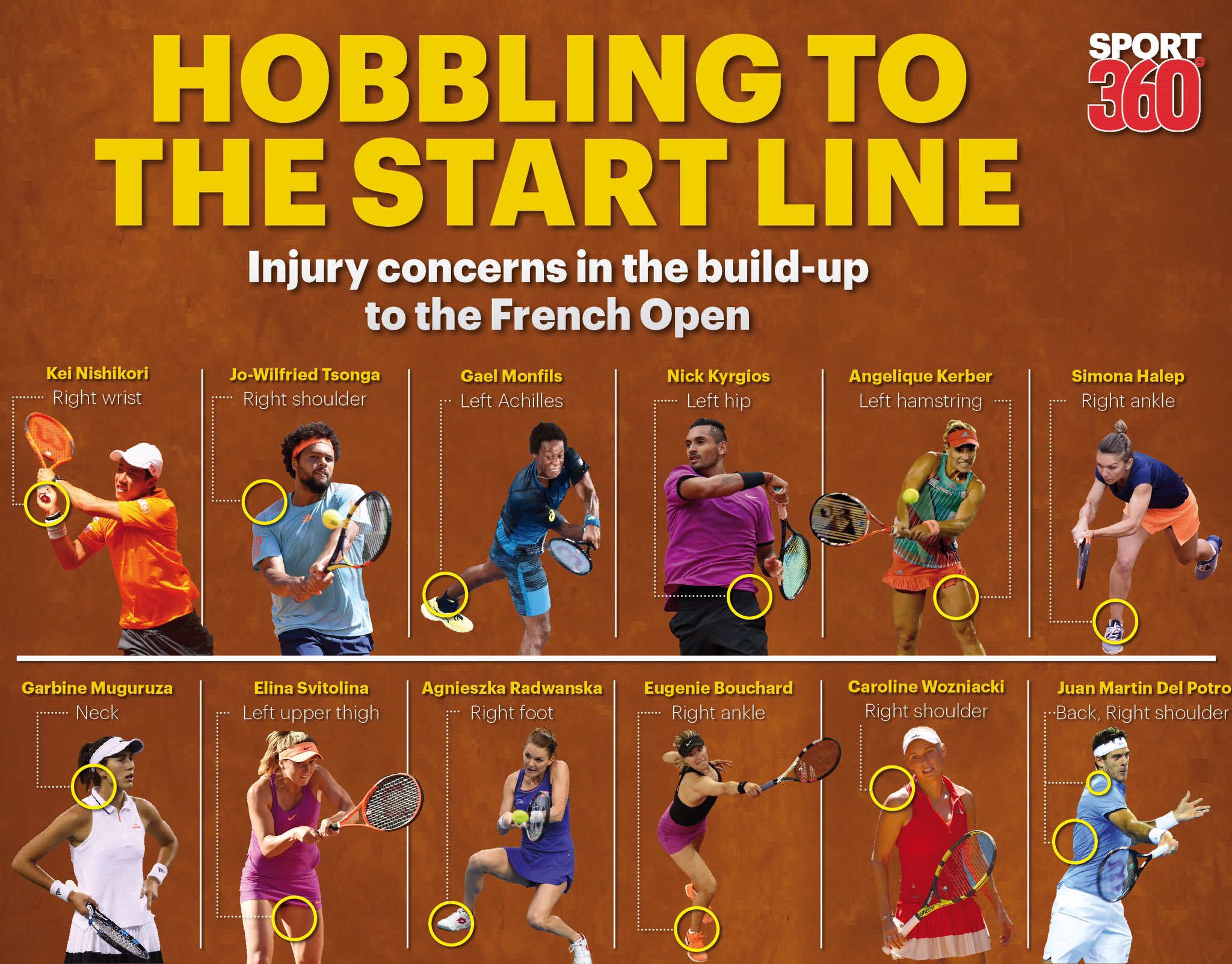 There are those that are unable or unwilling to play Siegemund, Serena, Federer, etc… But the most special story is that of the returning Petra Kvitova who obviously is ecstatic to enter the draw given the potentially career-ending injury she received at the hands of a robber.
The odds are really against the defending champions, Muguruza and Djokovic. While a new slam winner is not unlikely on the women's side, on the men's side that is far less likely. Sure, Djokovic, Murray, Muguruza, Wawrinka and even Kerber have had troubling seasons thus far but we can never count-out a champion.
The Women's  and Men's Draws are an odds-makers dream. For the women, the field is said to be 'open' and Nadal has a stranglehold on the terra beute with nine titles, even if he was tempered by Thiem recently. I predict new winners on both sides and noteworthy withdrawals and injuries. Wawrinka is the sleeper who is coming in with a lot of match play and confidence, his recipe for championship but he will run out of fuel. That may not be the case for Halep. If she can keep her head together and her ankle cooperates this is hers… but Venus may have a little something to say about this. If the stars are aligned Venus may just snag her first French Open. But that's just my humble cursory analysis, check out the more experienced takes on the draw.
Sport's Illustrated Seed Reports and picks.
The WTA Insider Draw Analysis.
ATPWorldTour.com breaks down the draw for the second Grand Slam championship of 2017
Telegraph's review sees Andy Murray avoids Rafael Nadal but still faces early challenges
Roar's draw analysis and picks.
Tennis Channel's draw analysis.
Jon Wertheim walks us through some of the interesting story lines.

Insider Top 5: Roland Garros Contenders

Tennis Channel commentators player draft
Till Sunday when first round kicks-off, check out Bill Simons beautiful piece, "The Art of French Tennis" which is equal parts history, elegy and shot analysis.
Interesting Day 1  Matches:
Angelique Kerber

(GER) [1] 

vs. 

Ekaterina Makarova

(RUS)

Julia Boserup

(USA) 

vs. 

Petra Kvitova

(CZE) [15]

Venus Williams

(USA) [10] 

vs. 

Qiang Wang

(CHN)

Lara Arruabarrena

(ESP) 

vs. 

Dominika Cibulkova

(SVK) [6]

Monica Puig

(PUR) 

vs. 

Roberta Vinci

(ITA) [31]

Amanda Anisimova

(USA) 

vs. 

Kurumi Nara

(JPN