What Impact Will Jelena Ostapenko's French Open Win Have on Gender Politics in Tennis?
It is often difficult to reconcile our love for a television show, book, movie or sport with our world view. This is often the case with tennis. It proudly sits upon its veil of integrity, yet it has held tight to inequality and prejudice: racism, homophobia, sexism, classism… This century it has been pushed to recognize its faults, but it has been slow in changing written and unwritten traditions and practices. From pay to media campaigns, images and commentating, tennis is rife with sexism. Most concerning is the lack of player agency the sport justifies and supports. The players, often young and inexperienced,  are infantilized by on-court coaching, objectified by the television camera and often even by their sponsors who provide outfits that are not flattering, offer a poor fit and appeal to fashion rather than the sport's needs. In short gender politics is far from equal and just in tennis and when we consider the media, the issue plummets further.
"It's hard not to feel humorless, as a woman and a feminist, to recognize misogyny in so many forms, some great and some small, and know you're not imagining things. It's hard to be told to lighten up because if you lighten up any more, you're going to float the fuck away. The problem is not that one of these things is happening; it's that they are all happening, concurrently and constantly." ―Roxane Gay, Bad Feminist: Essays
Beyond, the unequal coverage the women's tour receives, tennis media, commentators and writers, have long been charged with an inability to cover women's matches fairly and appropriately. So much so, that, "How to Talk About Women's Matches" became a viral sensation in 2014. Yet, here it is 2017 and one could make the same charges.
The media have made much of the women's draw, labeling it open with the absence of the sport's elite, Serena, Azarenka, Sharapova and the early return of an injured Kvitova. Like most ill-conceived narratives, this one was short-sighted. It neglected to delve deeper, to consider the totality of the women's tour. It simply applied oft used language and traditions to define the tour. Was the ATP's draw open with Federer's absence, Djokovic and Murray's lackluster play of late and Nadal's less than challenging path to the final (Haase, Basilashvili, Bautista Agut, Carreño Busta, Thiem)?
The women's draw wasn't open, it was deep. The talent pool is far from shallow. Surely, there is a smaller margin of differentiation among the players with Serena's absence. She is simply above and beyond the tour. Her stats and title record support this. There is also the Treeing phenomenon, which occurs when opponents play Serena. They often play their career's best matches: Heather Watson, Francesca Shiavonne, Alize Cornet…
The experts had safe choices: Halep, Svitolina or even the veteran, Venus Williams, but this was not the draw narrative. Only one tennis journalist, Lindsay Davenport, picked Jelena Ostapenko as the winner of this slam. The twenty year old made history as the first Latvian woman to win a grand slam. Though she had difficulty lifting the Coupe Suzanne Lenglen, she had no such difficulty maneuvering through her tough draw as an unseeded player to best Chiro, Puig, Tsurenko, Stosur, Wozniacki, Bacsinszky and Halep. She has shown gumption and even some chutzpah! This is her first major title and tour level title.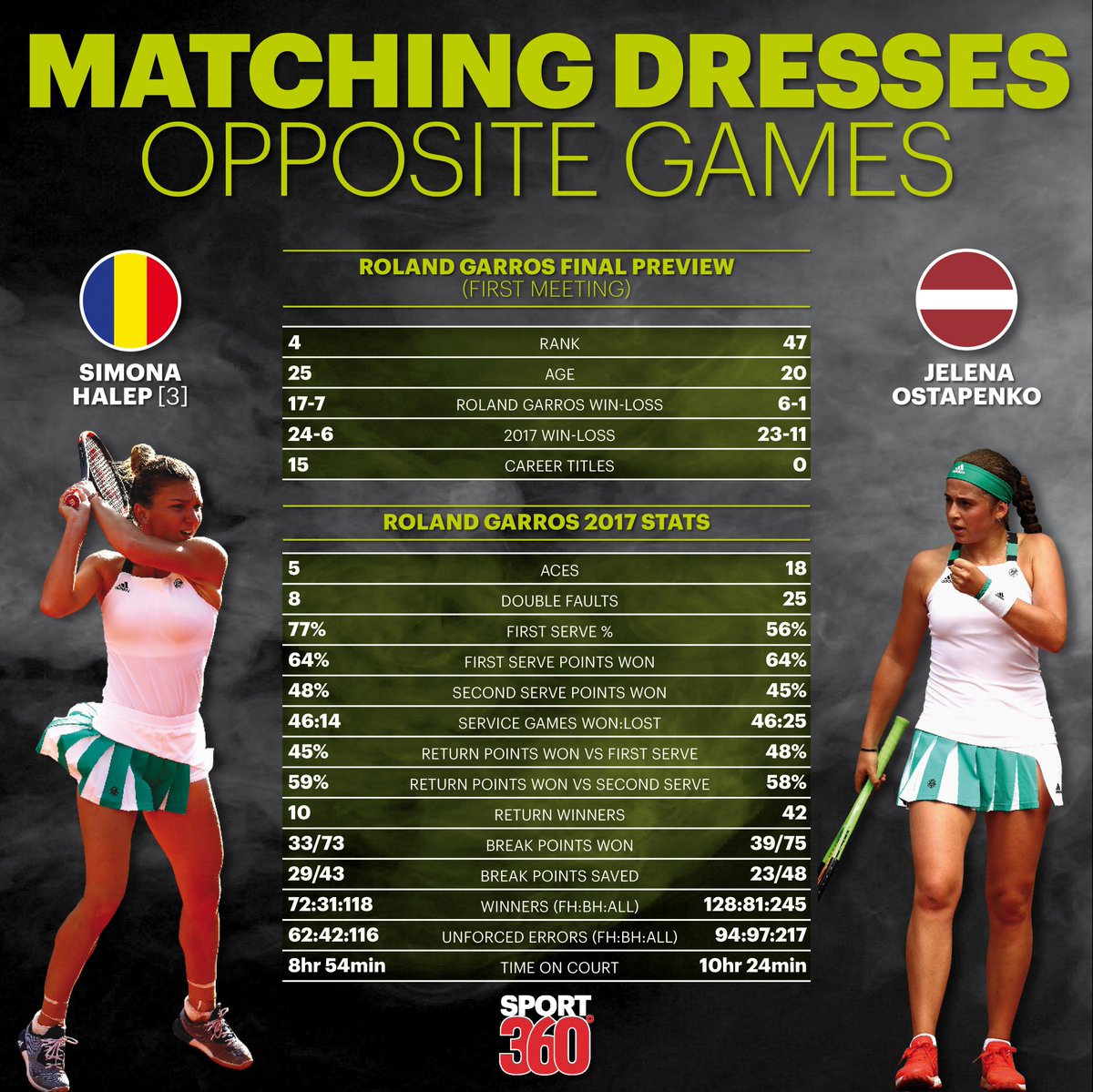 Far from a clay enthusiast, Ostapenko's game is built upon power. Just watch her powerful strokes. Like Madison Keys, the pace of her groundstrokes are often compared to and surpass that of the men. However, at 5′ 10″ that power is magnified by her court sense (IQ) and risky shot-taking. Consider her winner and error stats. In the tournament, she had 245 winners (128FH/81BH) and 217 errors (94FH/97BH). She is aggressive. She plays to win! She is not a defense player, moonballs are not her shot of choice.
With her age and confidence, this will serve her well and may embed itself deep in her psyche like Serena, Nadal, Djokovic, Kyrigos and even Monfils. They perfected if not patented unlikely or risky shots. Ostapenko's goal now has to be consistency. She has to now do the heavy lifting. She has to win, when she is expected to and when she isn't. She has to avoid the slump women and men have experienced in the sport after a life-changing win. Though this is only emphasized on the women's tour, namely Kerber and Muguruza, it is also present on the men's tour, Cilic and even Djokovic since he achieved the career slam.
One must wonder what impact Ostapenko's game and person will have on the tour. She was coached by her mother, Jelena Jakovleva, until this clay season when two-time French Open Doubles winner Anabel Medina Garrigues joined her team. One can surmise that her confidence and aggressive risk taking game is rooted in the same-gender support and modeling she has had.
Being coached by men is like, Wonder Woman being directed by a man. Imagine the male gaze even if he was a feminist and civil-rights supporter of the first order. This is not to imply that coaching be gender restricted, but the structural gender inequality and sexism in tennis, needs to be revolutionized. The number of female coaches is neglible on the WTA and ATP. Amelie Mauresmo and Gala Leon Garcia's coaching appointments were front page news and fodder for sexist trolls. There is a wealth of knowledge, talent and experience that simply isn't being accessed. The lack of female representation in the sport's 'front office' and coaching staffs is appalling. While sports sociologists will argue that agency and sports are a misnomer, one may argue that it is one of the most important feminist issues today.
The question remains, how will Ostapenko's historic win change the women's tour? The hope is: that it pushes the players to think beyond the limits and restrictions placed on them; that it pushes forward true pay equality across the long calendar, not just in slams; that it removes the theatrics of on-court coaching; that it collapses the gendered approach to the sport; that it removes sexist language and narratives; that it nurtures an environment where women can be who they are regardless of how that presents; that inequality and prejudice be called out and sanctioned regardless of the offenders' status, i.e. Margaret Court, Ilie Nastase, etc… As we quickly approach Wimbledon, which has been called the most sexist slam, let's hope that the sport and the players take Ostapenko's lead, infusing some assertiveness and risk in their games and thinking beyond the customary coaching teams.