Tennys Sandgren. Sergiy Stakhovsky. Margaret Court. They have hurled homophobic words and loaded language at the LGBTQ. The tennis world notoriously has not been a safe place for gay people. Sure there are a few out women on the singles and doubles court. But there are no out gay players on the ATP. This week with a one two punch the tour appears to have taken a giant step forward. Or are they finally being pushed?
With a tour of hundreds of men, there is undoubtedly more than a handful of gay and bisexual men. Yet, in 2018 these men are still reluctant to come out. Whether it is the financial or safety concerns, tennis' global country club atmosphere has made this even more difficult. The ATP needed its own Billie Jean King or Martina Navratilova to usher it into the twenty-first century. For a while that looked to be Andy Murray, though he is not gay.
He has been far more progressive and open than his tour. On the subject of gay marriage, "I don't see why anyone has a problem with two people who love each other getting married – if it's two men, two women, that's great. I don't see why it should matter. It's not anyone else's business. Everyone should have the same rights." His support of women and the LGBTQ community has been good and seemingly heartfelt. More importantly, his support has gone beyond words to deeds. He has had a woman coach, Amélie Mauresmo, and he has never backed away from sharing is politics. Surprisingly, he is not part of the latest conversation. At least not yet!
Without a gay player willing to take the bruising King and Navratilova has, others have stepped-up. Nick McCarvel, tennis and ice skating announcer, along with No Challenges Remaining (Courtney Nguyen, Senior Writer for WTA and Ben Rothenberg, freelance writer at NYT) partnered for Open Playbook: Being Gay and Out In Pro Tennis. When Kevin Anderson tweeted his support, the sport took notice. With the rainbow and fist pump emojis he said, "Words that come to mind when I think about people who are Out: courageous, strong, progressive, fearless and leaders. Very proud of my friend Nick for embodying these attributes and I hope you will support his cause if you are in NY on August 23rd."
However, it took two tennis fans turned podcasters, Jonathan and James of  The Body Serve, to broach the subject with players. When the most famous and well-regarded tennis player went on record, the angels sang and the sea parted! While many applauded Federer's response, some did note his inability to speak eloquently or with much depth about the tour's safety and reception for gay players. Ironically, the usually verbose Federer was a bit flabbergasted and succinct.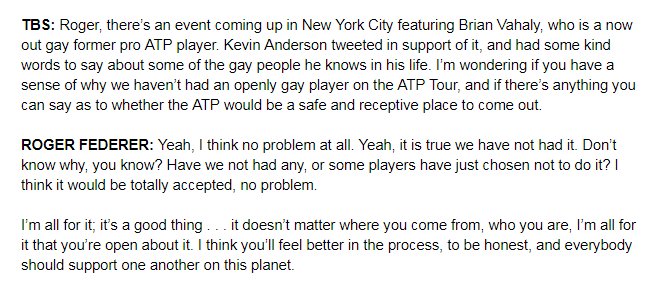 Imperfect as it was, Federer's response was important. It marked another milestone. It also showed just how ill prepared players, indeed the tour is for these questions, much less extended conversations. This has not been part of their media training. It was not needed. Tennis journalists operate in very defined spaces. They are handcuffed by the sport. Thankfully, this group found a way to navigate those treacherous barriers. The insightful conversation Jonathan and James had on their podcast, The Body Serve, may just help players come out before retiring like so many have done in basketball, soccer,  swimming and even tennis. Let's join them in creating a safe space for men, even the top ten, to come out in tennis.