Who doesn't love combined tournaments? This week the women start play on Saturday and the men on Sunday at the Muta Madrid Open. Though American viewing of WTA matches is hampered by WTA and beIN, Tennis Channel promises to do right by the ATP beginning on Monday.
This outdoor clay event is a Premier 5/Masters 1000. Top players are present and accounted for in the march to the French Open. WTA Draw top eight seeds will not rest on their laurels.The draw is tough.  The  ATP Draw is more balanced. This gives the top seeds the opportunity to play into the tournament.
The draws are set. The storylines are plenty. The anticipation is high. We are on high alert for what this week will bring:
Will Halep and Djokovic get their games together in time to defend their titles?
Can Nadal get past Kyrgios?
Will Wawrinka or Murray truly challenge Nadal?
Theim, Raonic and Dimitrov maybe the dark horses but should we count them out?
Can the top seeds avoid first round upsets?
How will Sharapova handle Lucic-Baroni's slice on clay?
Can Konta get by the many, many mines in her way?
Will Muguruza get past the first round this year?
Read on for a daily run-down of the top five moments from each day of the tournament.
---
Day 1
5. WTA and beIN continue to destroy the tennis viewing experience. At 3/3 in the third of the Keys/Doi match the announcer states that the viewing window has closed and we should continue watching on beIN connect on Channel 10. This totally disregards the American viewers.
4. Cornet/Bouchard was bound to be filled with drama but Bouchard got her first win in three and a half months. Winning ugly is still winning… At least she still has a chance. No.7 seed Agnieszka Radwanska withdrew with a right foot injury, though her game was not favored against the big serves and pace players even on clay.
3. A noteworthy loses and wins. Clay specialist Errani fell to Parmentier in Qualifying, but Vinci defeated young star Kasatkina 6-1, 1-6, 6-1. And in the opening round Donna Vekic won, well by retirement to Rogers 7-6(4), 1-0. Also American Risk marches on from Golubic  6-2, 6-4, but her country woman McHale fell to Arruabarrena 6-4, 6 (1)-7, 2-6. Finally, without the stadium of German supporters in Stuttgart and probably quite a bit of fatigue, Laura Siegemund secured a major win over Jo Konta. Most impressively, in the third set, she lost the first three game before taking three games of her own; that is grit folks… Victory 3-6, 7-5, 6-4
2. Wish someone had streamed Tie Break Tens. Vying for A prize of $250,000 eight ATP and eight WTA participated. Congratulations Dimitrov  and Simona Halep.
1a. Unlike Sharapova, Petkovic greatfully played through Qualification. First she defeated Han 6-4, 6-1 and then Sakkan 6-2, 7-6.
1b. With seven courts, this outdoor clay tournament had a jam-packed schedule on day 1. While the men played qualifying, the women delved into round 1. The top seed on court was American Madison Keys who took the court against Japan's Masaki Doi. Keys' dependency on coaches and on-court coaching isn't helping her game. It was also difficult to determine if her lapses were a result of a lack of focus or if she is nursing another injury.  How can such a good server lose serve so often? Doi defeated her 6-4, 4-6, 6-4.
Day 2
The schedule was laden with top seeds and must see matches today. Kr. Plishkova/Halep Sharapova/Lucic-Baroni, Kuznetsova/Shevedova and Muguruza-Bacsinszky. Also, after retiring before her second round match in Prague due to illness, Safarova took on Strykoca.
5. In less than an hour Halep conquered the obviously injured Pliskova 6-1, 6-2. Halep looked comfortable and confident even when Pliskova forced her to serve out the match on her own serve after having break and match point. After three math points, she finally had her win.
4a. Surprisingly, two Americans took out higher ranked or more experienced players. #59 Bellis defeated #26 Gavrilova 7-5, 5-7, 6-2 and #35 Lauren Davis took out #42 Monica Puig 6-3, 4-6, 7-6. And Vandeweghe continues her great play on clay, taking out lucky loser Kontaveit 6-4, 7-6 (7).
4b. Qualifers also triumphed. Vekic took our Putintseva 6-3, 6-4.  Wang defeated Garcia 6-4, 6-3. And Dugue-Marino soundly defeated Gorges 6-3, 6-4.
3a. Dangerous seeds/players Kerber, Wozniacki, Sharapova, Kutznetsova are through. However, Wozniacki may have suffered a bit of a shoulder injury. Safarova  isn't quite 100% since Prague; she fell to Strykova 7-5, 6-3, 6-3.
3b. Suarez-Navarro and Siniakova delivered bagels to Peng 3-6, 7-5, 6-0 and Parmentier 6-1, 6-0. Lest we forget kick-server Stosur's 6-2, 6-0 clinic to wildcard Tormo. The press will be wild about Sharapova's three set win over Lucic-Baroni 4-6, 6-4, 6-0.
2. With her mom in stadium, Muguruza, collapsed in the first set to the consistency and smart play of Bacsinszky. After a visit from her coach, in the second Muguruza got off to a great start up 3-0. Then her opponent took the racquet out of her hand and forced errors to take the set with six straight games. 6-1, 6-3.
1. With fifty minutes left in its WTA Tennis window, beIN closed the show at the conclusion of the Muguruza/Bacsinszky match. Three other matches were in progress and last year's finalist Cibulkova and Jankovic were about to begin. Instead they sequed into a soccer match between Barcelona and Vilareal which played yesterday.
Day 3
5. I have been steady with my criticism of the WTA and beIN, so it is only right that I acknowledge their broadcasting today of this tournament. While the commentating is far from engaging, the coverage was far better. they covered the Pliskova, Kerber, Kutnetsova, Strykova and Sharapova matches. They were far less effective in highlighting secondary matches. Of course as Sharapova/Bouchard commenced, beIN pushed the Styykova match to beIN Connect. during the Sharapova/Bouchard match they did note that they would switch over to the Wozniacki match… Though Sharapova Bouchard ran beyont the broadcasting window, beIn did show the end of the Wozniacki/Navarro match joining in the second set with Wozniacki up 5-2  and staying for till its completion. Yeah!!!!!!!!!!!!!!!!1
4. Down a set, Kutnetsova refused to close up shop, but it was Riske who forced the tie break. With the second set secured and up 3-0 in the third, it looked like Kutnetsova was on cruise control. She had stepped-up her game and Riske had a difficult time keeping-up, though this was one of her better matches. Kutnetsova marches on 2-6, 7-6, 6-2.
3. On the ATP front, how does one go from delivering a bagel in the first set, to receiving on in the second set and ultimately losing the match in the third set with another bagel in the tie-breaker? I'll be watching this match on replay tonight. I just have to see how Monfils/Simon did this 6-0, 0-6, 6 (0) -7.
2. Great to see Dimitrov, Donaldson, and Kyrigios marching on, but too bad Sock fell to Mahut 4-6, 6-0, 6 (4)-7.
1a. Every day a top seed drops…Keys, Konta, Muguruza, Wozniacki and wildcard Sharapova. Sounds like a catchy song lyric, but it is one Mutua of Madrid likely dreads! Tomorrow, we'll see if Andy Murray is the first seed to be pushed out of the men's draw.
1b. The best match of the day was Sharapova/Bouchard which I detailed in a match analysis post. It more than lived up to the hype given all of the statements the players and their proxies have made. No doubt their press conferences will not deflate this burgeoning rivalry.
Day 4
Must see matches: Vinci/Halep, Siegemund/Vandeweghe, Donaldson/Thiem, A. Zverev/Verdasco.
5. After the zaniness of yesterday, today was much quieter. Top seed Murray hit the courts to defeat wildcard Copil 6-4, 6-3.
4. Marching on in straight sets is Goffin, Coric, Thiem, A. Zverev, Muller and one of my favorite doubles team Kyrigos/Sock.
3. Interestingly, Harrison defeated Tomic 7-5, 4-6, 6-2.
2a. Cristea, Doi,  Stosur and Bertens, are through in straight sets, but Begu, Vandeweghe and Halep needed three sets. Three and five set wins with lopsided scores are head-scratching. Do the players totally lose focus in one set? Do the players unravel the opponents game plan or device a new one of his/her own? In How Halep Came from the Brink and Showed off a Plan B to Beat Vinci, Steve Tignor explores my conundrum.
2b. Who knew Halep is really spicy as her knick-name, Halepeno, indicates. She said, "I didn't wish good luck to Bouchard because we don't speak, actually…She's different, I can say. I cannot judge her for being this. I cannot admire her for being this. I have nothing to say about her person."  On Sharapova she said,  "I'm not thinking that much, because many players are difficult in this level of tennis, the highest level of tennis. For me it's the same if Maria is here, if Maria is not here. I don't feel extra motivated. I didn't meet her yet. But it's the same for me."
1. Tall and powerful Oceane Dodin stunned 2016 finalist Cibulkova in straight sets 6-2,   6-4. Dodin simply took the racket out of her opponents hands. She sent serves back quickly often stunning and wrong footing the usually quick Cibulkova.
Dodin: "I'm very proud of myself. I had stress but I had to be aggressive and have a big serve. Maybe it was the best match of my career."
Day 5
Must see matches: Almagro/Djokovic, Nadal/Fognini, Kerber/Bouchard, Vandeweghe/Navarro, Wawrinka/Paire
5. Today the ship was righted. Expected winners won, for the most part. Coric, Berdych, Ranoic and Dimitrov sailed through their matches. Djokovic eeked out a win over Almagro 6-1, 4-6, 7-5. Similiarily, it took Lopez, Cuevas, Neishikori and Nadal three sets to move into the third round. However, top seeds Wawrinka and Cilic did fall to Paire and A. Zeverev. Most importantly, Kyrgios had no problems with Harrison, 6-3, 6-3 to set-up the much anticipated third round duel with Nadal.
4. Ferrer got a walkover from the Tsonga. Here is his Facebook statement.
Hello everyone,
It is important for me to tell you that my withdrawal from the Madrid 
tournament does not call into question my preparation and that I am 
confident for the future. Having a small injury, it is important for 
me not to take the risk of aggravating it by playing today. I hope to 
bring joy to all the people who follow me in the next few days to see 
the coming weeks. #TsongaTeam
3. Dodin/Mladenovic was the match of the six foot ball bashers. Dodin came out flat with her knee taped and no answers for her countrywoman's game. Until her father/coach came out for some on-court coaching she was in danger of the dreaded bagel! Mladenovi's serve as phenomenal, pushing her out to a 4-1 lead quickly. At 4-2, Dodin had two or three opportunities to break but was unsuccessful and lost the set 6-2. The second set was more of the same. Off to a 3-0 lead, Mladenovic was likely having visions of her quaterfinal match against    But wait, at 5-0, Dodin served her way into a 40-0 game and though her opponent got a point on the board, Dodin secured the game and even smiled at the small victory. Though the 6-2, 6-1 loss must have been a disappointment, Dodin has arrived!
2. Unable to hold serve and play aggressively in the wind, Kerber quickly lost the first set. Bouchard was anything but flat after her win over Sharapova; she is obviously a player that likes the spotlight of a big win. She had Kerber on her back-foot as she controlled the match even in the second set when you would have expected Kerber to alter her game plan. Kerber remained flat unable to out serve, hit or move her opponent. Unfortunately, Kerber injured her hamstring and was unable to finish the match. It wasn't clear if the injury is new or if it was accelerated during the match. 6-3, 5-0 Bouchard moves on…
1. While the WTA players are fighting for her spot, the pregnant #1 is at a theme park trolling them…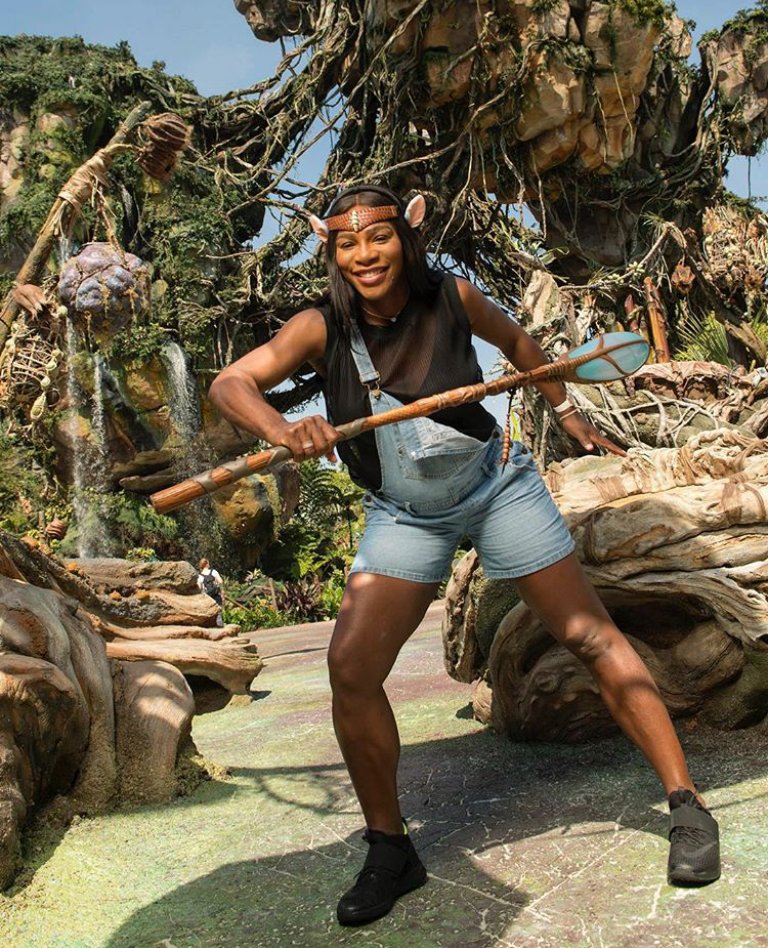 Day 6
Must see matches: Vandeweghe/Halep, Kyrigios/Nadal, Bouchard/Kutnetsova, Nishikori/Ferrer
5. Most of the ATP top seeds moved on without much fuss. Djokovic, Goffin, A. Zeverev and Nishikori. However, Dimitrov fell to a happy Thiem is a tight three-set match that needed a tie break. Paire  also lost to Cuevas in a zany scoreboard 7-5, 0-6, 6-1.
4. Lucky Loser Borna Coric beat No. 1 Andy Murray in straight sets 6-3, 6-3.
3.  In the most anticipated match, next generation Kyrgios was quickly defeated by Nadal 6-3, 6-1. It was a bit of a let down. Kyrgios was hampered by a hip injury he had treatment for during his Baghdatis match. Hopefully, this isn't a serious injury. I'd had to see him off the tour for any length of time!
2.  Bouchard return was stopped by veteran and all around bad ass Kuznetsova 6-4, 6-0. Mladenovic also took out Cristea 6-4, 6-4. Sevastova defeated Bertens for her first semifinal 6-3, 6-3.
1. In their first meeting, Halep dominated Vandeweghe 6-1, 6-1. Surprisingly, Halep and Begu defeated Mirza and Shvedova 6-3, 3-6, 10-6. Halep is now into the semifinals in singles and doubles.
Day 7
Must see matches: Kyrgios/Sock vs. Bryan/Bryan, Kutnetsova/Mladenovic, Nishikori/Djokovic
5. While beIN has improved their coverage this week, it could not compete with Tennis Channel. Soon to be known as the home of tennis, it featured doubles matches, highlighted WTA scores and storylines and spotlighted their commentators in their center court live daily recaps .
4. Halep/Begu lost in doubles to Babos/Hlavackova 4-6, 2-6, but she won convincingly in singles against Sevastova 6-2, 6-3 setting-up her run for the championship with Mladenavic who took out Kutnetsova convincingly 6-4, 7-6 (4).
3. Surprisingly, Cuevas took out A. Zevrev in three sets 3-6, 6-0, 6-4 and Thiem took out Coric 6-1, 6-4.
2. The pomp and circumstance of the Mutua Madrid Open rival's that of Wimbledon. The ushers stand at attention in the stands like Queens Guards in their red dresses with bolero jacket. And the ball kids are athletic young people in great fitting black and white tees and grey shorts, While the lines people wear red zip-ups and black pants announcing their importance. This is a good-looking tournament even if the optics of the empty stadiums leave a lot to be desired.
1b. Neishikori pulled out with a wrist injury, giving Djokovic the day to rest and watch his semi-final competitor, Nadal, in action against Goffin.  Nadal's play in the second set was otherworldly. Wielding his racket like a magician or artist, his passing shots, drop shots and down the line winners were miraculus. Schooling Goffin 7-6, 6-2 (3), Nadal set-up what is the most frequent match-up in tennis history.  A lot is on the line for both. Nadal is playing for history (#10 title) and Djokovic is re-sculpting his game and ultimately his career after a disastrous year and the dismissal of his entire coaching team.
1a. BEST MATCH TODAY WAS Kyrgios/Sock and Bryan/Bryan. After losing the first set, Kyrgios/Sock bounced back to sneak the win 6(5)-7, 7-6(5), 10-7.
Day 8
Must see matches: Just turn on Tennis Channel and beIN to see a day of great play. Chan/Hingis vs. Babos/Hlavackova, Nadal/Djokovic, Halep/Kutnetsova, Cuevas/Thiem and Kubot/Melo vs. Kyrgios/Sock.
5. I was disappointed to see Ilie Nastase on the dias during the trophy presentation, not because of his behavior but his total lack of remorse. However given the tournament's Romanian ties this is part for the course. As the owner, Ion Țiriac, is likely much like Nastase. That is, the countrymen are of a certain age and may see Halep's rise as an opportunity to patriotism that they would let no one stop. As a young woman, Halep must find a way to respect these elders and legends while defining her own moral compass. How many of us have a parent, uncle or grandparent who is politically incorrect if not plain racist, insensitive, damaged, etc…?
4. Of all things, this is what Steve Simon responds to? There have been so many issues that he should have issued a press release about, but he chose this one…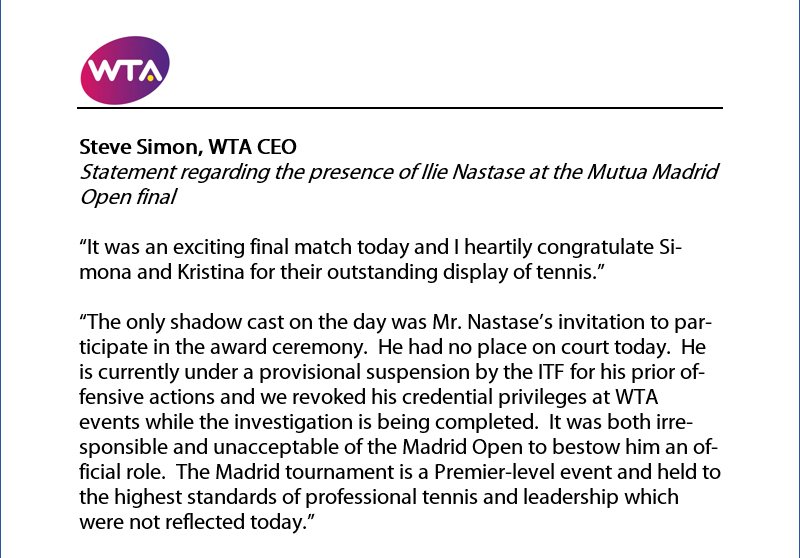 3. Chan/Hingis are crowned doubles champions, defeating Babos/Hlavackova 6-4, 6-3. Her success with Chan has not yet rivaled that with Mirza, but it is a new partnership, let's see how they gel… Kygrios/Sock withdrew…
2. Much has been made of the Djokovic/Nadal final especially since it was their fiftieth meeting. However, it is more important to note their head-to-head, 26-23, and the fact that the last seven meetings left Nadal on the losing bench. Tignor examines the shifts in the rivalry and how today's win may change them moving forward.
1. It is always interesting to hear player's thoughts on their game and their approach especially when they have made major changes. Halep has long lacked for confidence and perseverance, but her final match against Mladenovic encapsulated how she has changed on court. Up a set, she loses the tie-beak in the second but comes back in the third with Serena like determination. She ran down impossible drop shots and balls that took her off the court. She continued to hit her balls deep and hard keeping her opponent on edge. Finally, after two hours and forty-four minutes, Halep emerged the victor 7-6, 6(5)-7, 6-2. She is scheduled to play Rome next week, but after so many hours on court this week, I'd be stunned if she goes deep into the tournament…
Check Out:
Seventy year old Nastase will be denied accreditation for French Open as a result of his sexist and racist comments during Fed Cup.

Djokovic's wheels have really fallen off the wagon. He has now ended his partnership with his long-time coach Vajda, fitness coach Gebhard Phil Gritsch, and physiotherapist Miljan Amanovicand. He will most likely spend quite some time without out a coach…
Bouchard on soul searching and regaining confidence…
Wawrinka can hit the #2 ranking if…
Halep is in good form this clay season.
Just wow, read it and think about conflation and privilege. Scientists discover genetic flaw in Blonde Female Contrition Deficiency
Fifth Meeting: Sharapova vs. Bouchard
Times Sport Exclusive: Birmingham wild card for Sharapova
"Tempur-Pedic is announcing that the brand is teaming up with Serena Williams for its new "Tempur-Pedic Sleep Is Power™" campaign."
American competitor Tennys Sandgren has garnered a wildcard into the upcoming French Open, and so for the first time in his career he will appear in the main draw at a Grand Slam championship.
Champions Corner: Pavlyuchenkova rides the wave to Rabat title
Eugenie Bouchard backed-up her words against Maria Sharapova in Madrid
Nadal's journey to the French Open is…
Winners This Week:
WTA Singles-Simona Halep defeats K. Mladenovia 7-6, 6(5)-7, 6-2.
WTA Doubles- Chan/Hingis defeat Babos/Hlavackova 6-4, 6-3.
ATP Singles- Rafael Nadal defeat Dominic Thiem 7-6(8), 6-4.
ATP Doubles- Kubot and Melo downed Frenchmen Nicolas Mahut and Edouard Roger-Vasselin 7-5, 6-3 in one hour and 20 minutes on Sunday.
Next Week 5/14:
Internazionali BNL d'Italia (Rome/Outdoor Clay/Masters 1000/Premiere 5)
What were your top tennis moments this week?