Players no doubt are preparing to bring their best to the French Open. Some, like Federer have taken to resting and others are determined to get as much match play as they can in the eleven ATP and nine WTA lead-up tournaments.
Americans reportedly love playing Houston. No wonder they have won the title eight times since 2000 and have an opportunity to win it again as Steve Johnson takes on Thomaz Bellucci in the final!
This Week:
5. Who knew that an acting tournament director could also be an active tour player! Tommy Haas was named Indian Wells Director last year replacing the tone-deaf Raymond Moore. However, this week Haas played Houston defeating the young American wildcard Opelka before falling to Sock 4-6, 6-3, 3-6. The twenty-two year veteran has had many injuries and surgeries but the thirty-eight year old has something to prove to himself. He wants to leave the game on his own terms… Understandably, it must be difficult for players to leave the tour, but this double dipping is steeped in impropriety. Many will give Haas kudos for the fete, but should they? Unlike most farewell tours, this one doesn't only bring feelings of nostalgia. Haas will play singles and doubles next week in Monte Carlo.
4. Like Thiem, Sock's scheduling is affecting his tennis; he has played a lot of tennis in the first three months of the year. Having played Davis Cup in Australia last week, this week he was irritable on court. He did make it to the semi-final with friend and Davis Cup team-mate, Johnson. Sock's tirades were subdubbed compared to his outbursts against Lopez in the quarterfinal. Yet after winning the first set, he totally lost focus and then coasted in the set, conserving energy for the third set. He lost 6-4, 4-6, 3-6. There is rest for the weary. Sock is not scheduled to play Monte Carlo next week.
3. The always MIA Steve Simon, WTA President, surfaced to talk on-court coaching and loud grunting with Mary Carillo. While he believes it is an exciting time for women's tennis, he didn't reveal any exciting plans for the tour. Not surprisingly, he supports on-court coaching and dismisses Carillo's query about the optics of on-court coaching in women's tennis. As to loud grunting, he said there is no solution as it has to be addressed at the grass-roots level in training and hinderance is being enforced.
2. Tennis viewing continues to be an infuriating pursuit. While Tennis Channel featured the Houston tournament this week, the largely unknown beIN hosts WTA's overseas tournaments. Unfortunately, the official WTA outlet only scheduled one two-hour block of women's tennis a day; the tour had two tournaments on the calendar. Meanwhile Bob Moran, Volvo Car Open Director can't sing Tennis Channel's praises loud enough. The tournament has an eight year deal with Tennis Channel, replacing ESPN. Moran is happy with the 50 hours of coverage, exposure and resulting boost in attendance for his WTA tournament. WTA has yet to launch its planned subscription streaming service after leaving the ATP-owned digital streaming platform TennisTV. Though Steve Simon has worked hard to untangle the WTA's broadcast plan,  it is taking quite some time for fans and players alike to reap the benefits.
The WTA tour is perhaps the strongest and most varied it has been, but it continues to have difficulty in finding a foot in the sport landscape. No amount of enviable personalities or stats will right this if we can't watch the sport…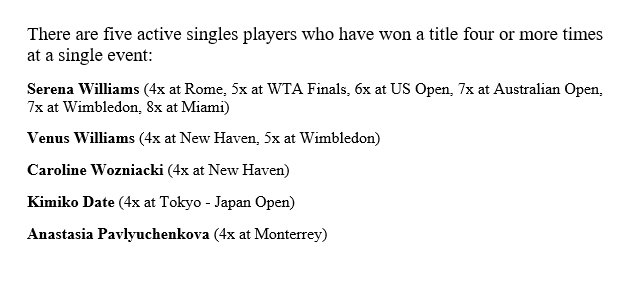 1.  Michael-Steinberger interview with one of tennis' most successful coaches is noteworthy not only for its occurrence, but the coach's pronouncements. Thomas Hogstedt has had an all-star bench: Maria Sharapova, Li Na, Tommy Haas, Madison Keys, Caroline Wozniack, Simona Halep, and Genie Bouchard . His ideas about training and the game should be required reading.
Players like Keys, who has a concussive serve and equally massive groundstrokes, the women's game is quickly converging with the men's game, and coaching strategies must evolve accordingly.
Relatively short and very intense [training] sessions that simulate match conditions as closely as possible is preferable.
The serve, the return, and the third ball matter more than ever now, and practice sessions must reflect this.
Check Out:
Rio Olympics can't pay debts, offers used air conditioners instead

http://

thesent.nl/2ojH0R0

 

Eugenie Bouchard's lawyer accuses USTA of knowingly and willfully destroying evidence. Will this case ever end?
Is this a hoax? The title of Maria Sharapova's upcoming autobiography has been revealed: "Unstoppable: My Life So Far." To be released in September.
The Maria Sharapova PR train is really hopping now with Forbes highlighting her Sugarpova Chocolate line.
Sascha Bajin is really trying to make the move from hitting partner to coach.
Winners This Week:
Claro Open Colsanitas (Colombia/Clay) veteran Schiavone took it to Arruabarrena 6-4, 7-5.
Ladies Open Biel Bienne (Biel, Switzerland/Hard-court) Youngster Vondrousova defeated Kontaveit 6-4, 7-6 (6) to win first WTA title.
Grand Prix Hassan II (Marrakech/Clay) Coric defeated Kohlschreiber) 5-7, 7-6(3), 7-5 to win his first title.
Fayez Sarofim & Co US Men's Clay Championship (Houston/Clay) Johnson defeated Bellucci 6-4, 4-6. 7-6(5) Through leg cramping, score pressure and the heat, he problem solved his way to victory.
Brown/Tiafoe and Peralta/Zeballos was a must see though the first time American pairing lost 6-4, 7-6, 10-6.
Next Week: Each tour has only one tournament on their calendars 4/17-23.
Biyuan Cup Zhenghou Women's Tennis Open (China/Hard-court)

Monte-Carlo Rolex Masters (Monaco/Clay)
What were your top tennis moments this week?