This slam will be difficult to watch, literally. Tennis Channel will push the majority of the women's matches to its digital streaming subscription service, Tennis Channel Plus, to focus on men matches like the three-hour plus match of the French compatriots Pouille/Benneteau. Thankfully, Kvitova opens the day on center court, Philippe-Chatrier Court, and the other scheduled matches don't offer any bigger storyline. However, between the ping ponging around the fifteen or so courts and the often irritating chatter from the commentators, week one will be a trial in patience, but check-back for daily takes.
Daily Takes
Day 1– Come For the Stars, Stay for the Erratic Music
5. It is James Blake's unveiling of sorts as an official commentator on TC. He is yet to find his style or comfort level but if Chris Evert can learn on the job, so can he. We will just have to deal or turn the sound-off, muting is our friend. I am rooting for him!
4. Two years after brain tumor diagnosis and surgery, Matt Cronin is still giving us some of the most insightful tennis nuggets on twitter and on his website. He nails it in, "The women: Who can actually win the women's RG trophy?" but he too fails to pick a winner in what has been called the most open slam draw.
3. Well there were no major surprises. Sure there were upsets and miraculous victories, but they were expected. Kvitova slayed the dragon and Bosurup 6-3, 6-2 successfully returning to the sport and Makarova took out the decompensating Kerber 6-2, 6-2. Though the Kutznetsova/Hale match was tighter than expected, the slam veteran kept her tournament going with a 7-5, 6-4 win. At one hour and forty minutes Venus thankfully got her win in two sets against Wang 6-4, 7-6(3), conserving her energy for Nara in the next round.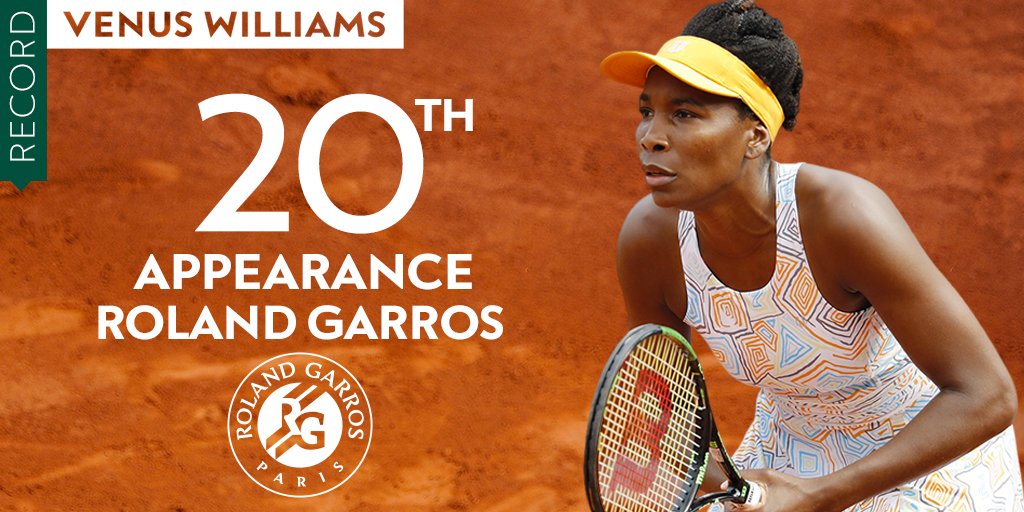 2. Oh, here are some firsts. It was also great to see Puig re-emerging after Olympic Gold, with a win over clay specialist Vinci 6-3 3-6 6-2. Similarly, Dimitrov got his first win at Roland Garros in four-year against Frenchman Robert 6-2 6-3 6-4. And after three hours and twenty-one minutes Pouille got the win over countryman Benneteau 7-6(6), 3-2, 4-6, 6-3, 6-4. Medvedev is the first retirement of the slam, against Bonzi in the fourth set, 5-7 6-4 6-1 3-1. Finally, fifteen year old Amanda Anisimova (USA) looked good in her grand slam debut though she was defeated by Kurumi Nara 3-6 7-5 6-4.
1.  Stevie Johnson is a rather emotional story given his rise on the tour and the passing of his father, Steve Johnson Sr., on May 11. A prominent coach in California for over 35 years he was much beloved in the tennis community. Johnson reached the quarterfinals last week in Geneva and looked great against Yuichi Sugita. He blew a straight set victory, pushing the match to a fourth set after bumbling the tie-break 6-3, 6-3, 6(4)-7; the match was suspended at his insistence (for darkness) 2-4 in the fourth as the last match of the day. Looking forward to the replay of Round 1 matches on TC.
Must See Matches Tomorrow 
Garbiñe Muguruza

(ESP) [4] 

vs.

Francesca Schiavone

(ITA

Alexander Zverev

(GER) [9] 

vs.

Fernando Verdasco

(ESP)

Frances Tiafoe

(USA) 

vs. 

Fabio Fognini

(ITA) [28]

Francoise Abanda

(CAN) 

vs. 

Tessah Andrianjafitrimo

(FRA)
---
Day 2: Back on Track on the Red Clay 
5. Today was a lot more on message than yesterday. Top seeds slayed or at least survived and their opponents though, offering resistance, ultimately surrendered. Djokovic, Nadal, Muguruza, Pliskova, Raonic, Cilic and even Stostur, though not a top seed, sailed through in straight sets. Highly favored seeds, Mladenvic and Bertens ran into some opponents, Brady and Tomljanovic, who pushed them to three sets. Similarily, Wozniacki needed three sets for her win against Fourlis. For some, poor scheduling and the resultant fatigue apparently cost them wins. Gavriolova and Vandeweghe had decent to very good clay seasons coming into this slam, yet they lost to players they shouldn't have, Mertens and Rybarikova. Then there was Shiavone and what may be her last match at Rolland Garros. The thirty-five year old who is rumored to be retiring this year lost to Muguruza 2-6, 4-6.
Of these matches Kristina [13] Mladenovic (FRA)/Jennifer Brady (USA) 3-6, 6-3, 9-7 was most intriguing. Brady's inexperience cost her the match. In key moments she got tight and littered her score sheet with errors and double faults. She also was rather predictable with her serves and patterns. But her inability to close out the match when Mladenovic was clearly in pain and serving in the 70's will haunt her for a while. The tears and pain of a recurring back injury could have easily cost the Frenchwoman the match, but she toughed it out even when the fans booed her for arguing with the umpire at length, not once but twice in the later sets.
4. The number two Canadian Francoise Abanda ranked #195 was successful in her first grand slam main draw, defeating Tessah Andrianjafitrimo (FRA) 6-3, 6-4. She will face Wozniacki next.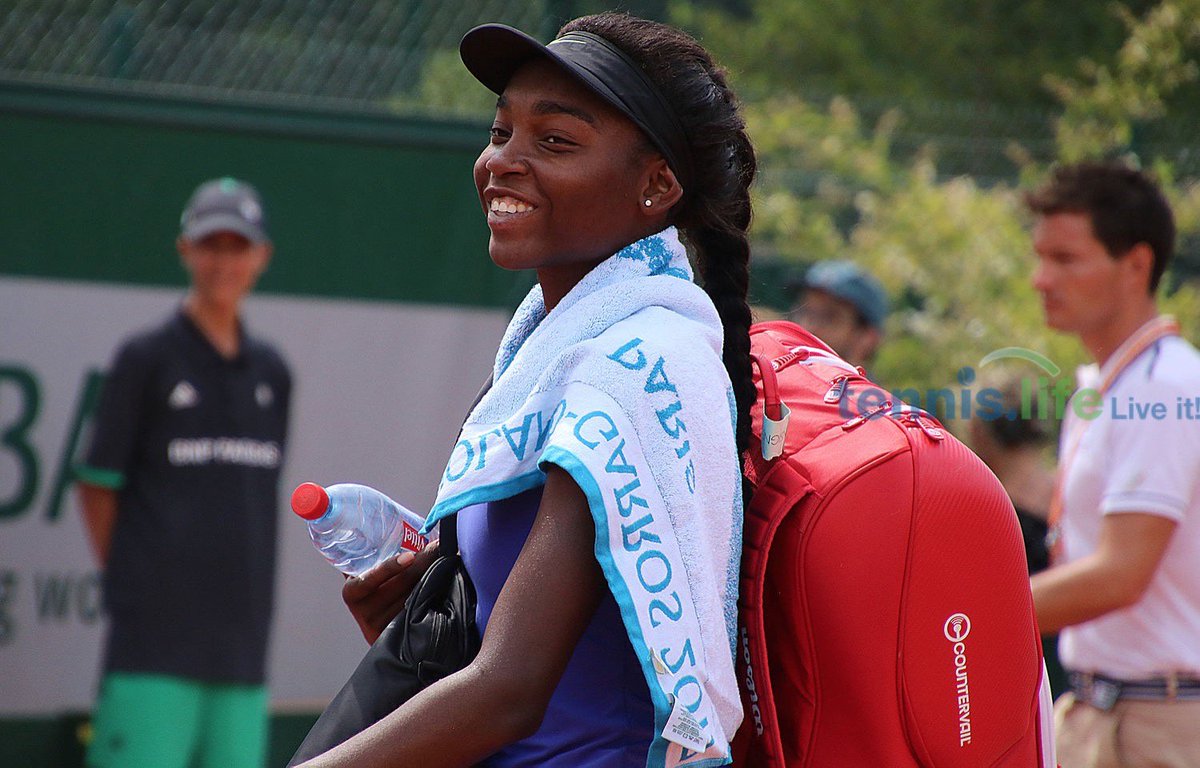 3.
Marathon Match of the day was not the two-day five set
Johnson/Sugati
match that Johnson secured after three hours and thirty-four minutes 6-3, 6-3, 6-7(4), 6-7(3), 6-3. It was
Ferrer/Young
at four hours and twenty-six minutes, with a final set that was over an hour-long. Ferrer eked out the win 5-7, 6-3, 4-6, 6-3, 13-11.
2. Questions of the day.
Why does it look like TC and NBC have the exact same feed? They are showing the same matches, only difference is they are using different commentators. What a lost opportunity for both.
What do you think Jon Werthiem means when he says, "Here's what gets me about Venus: throughout her career—and still to the casual fan, I'd submit—she was known for volume, literal and metaphorical." Sure she has a big game and she is big, tall, but she has always been reserved if not quiet, so this description is a bit unclear.
For the second day in a row, player/s made the decision to end play. Yesterday it was Johnson and today it is Verdasco. With light rain and less than an hour of light remaining, he had the conversation with the officials who ultimately acquiesced though they surely wanted him to play at least one quick set before suspending play. A. Zverev/Verdasco 4-6 6-3 will continue tomorrow on Philippe-Chatrier Court after Konta/Hsieh.
How does Fognini keep it together to deliver a finish like this? Tiafoe, has been Fogninied. Yes, this is a thing; you heard it here! Ben Rothenberg tweeted, "Frances Tiafoe and Fabio Fognini each won exactly 125 points, but Fognini got the ones that mattered most. 6-4, 6-3, 3-6, 1-6, 6-0."
Is there anyone happier than Tunisian 

Ons Jabeur (Bogdan 6-3, 6-4) who, according to Abulleil is the first Arab woman to reach the 2nd round of a Grand Slam since Selima Sfar in 2008. She will play Dominika Cibulkova next.
1. Best line from a commentator goes to the one and only Martina Navratilovatalking that champion shit! Here she is on Muguruza, "That is a journeyman's record not that of a champion. She is fragile. It is like money hard to get and easy to lose."
The best tweets today are about this incredible image of Boris Becker bending over to say something to Andre Agassi who is now consulting with his old charge, Novak Djokovic. Sport 360's @ReemAbulleil simply said, "Caption this!" while @zbrain tweeted, "When your ex can't let go and wants to keep a close eye on your current relationship."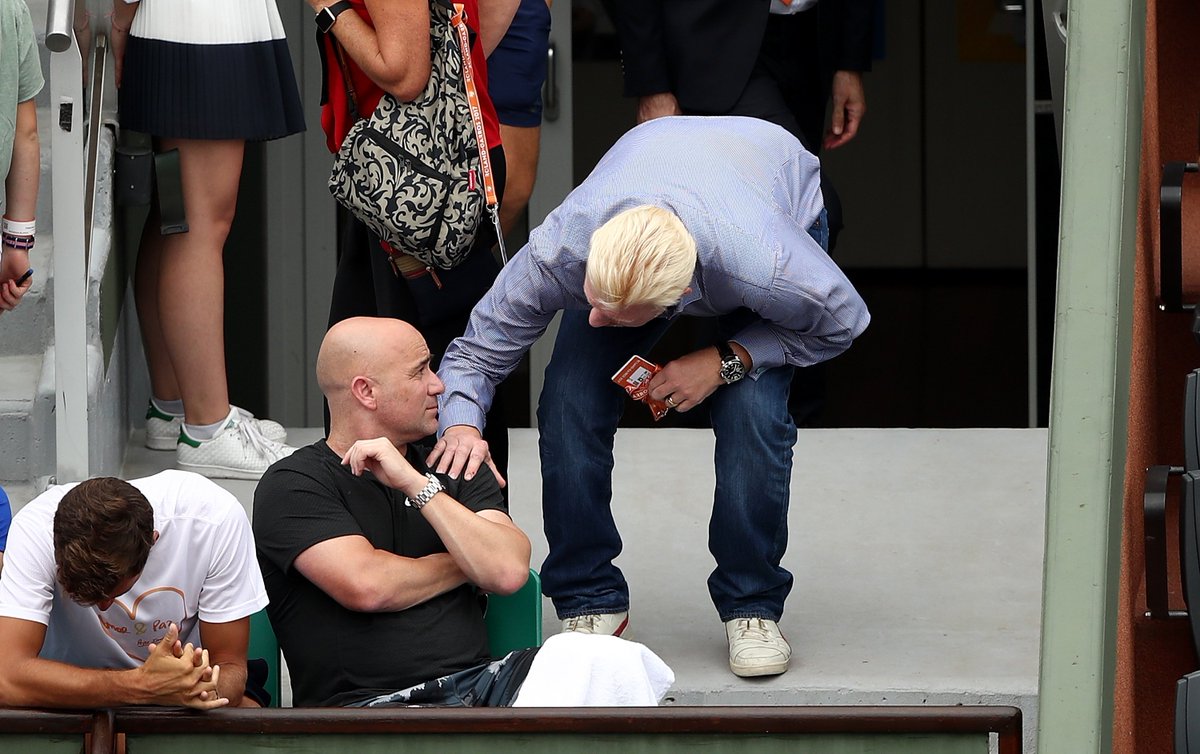 Must See Matches Tomorrow 
Elina Svitolina

(UKR) [5] 

vs. 

Yaroslava Shvedova

(KAZ)

 

Dustin Brown

(GER) 

vs. 

Gael Monfils

(FRA) [15]

 

Thanasi Kokkinakis

(AUS) 

vs. 

Kei Nishikori

(JPN) [8]

 

Philipp Kohlschreiber

(GER) 

vs. 

Nick Kyrgios

(AUS) [18]

 

Ashleigh Barty

(AUS) 

vs. 

Madison Keys

(USA) [12]

 

Daria Kasatkina

(RUS) [26] 

vs. 

Yanina Wickmayer

(BEL)
---
Day 3
---
Day 4- The Heart wants it…
5. Today was filled with tons of heart-warming matches resulting in wins and losses.  Grieving Johnson, reached the third round, with a great win over Coric 6-2 7-6(8) 3-6 7-6(6). While Pouille was making personal history getting into the third round for the first time (Thomaz Bellucci 7-6(5) 6-1 6-2) Jabeur was making national history as the first Arab woman to get into the third round (Dominika Cibulkova 6-4 6-3) with her first top ten win. Selima Sfar's open letter on the feat is beautifully honest as the country woman to be bested.
4. There were devastating loses. Petra Kvitova showed her frustration hurling her racket when she could not summon her game against the versatile doubles specialist Mattek-Sands who showed great respect at the net after winning 7-6(5) 7-6(5). Then Tsonga returned to the court with a hope that he could swing the momentum 7-5, 6-4, 6-7(6), 5-4. This was not to be. He and Renzo Olivo (ARG) played one game and the match was over.
3. I have got to watch this in replay because, the scoreline alone has drawn my interest. Wozniacki double-bageled Abanda. While Abanda is not the veteran or mover Wozniacki is, I wonder what holes Abanda has in her game to result in this!
2. My favorite, Venus defeated Kurumi Nara 6-3 6-1 quietly continuing to make history. She plays Mertens on Friday. Her draw looks really good. In the stans, Serena watched her big sister while players, fans and commentators alike wished her congratulations and tried to get her on camera.
1. Coach Mouratoglou told the AP that Serena has discussed returning in time to play the Australian Open next January. She is six months pregnant so that will be the shortest maternity leave in sports.
Must See Matches Tomorrow
Nicolas Almagro

(ESP) 

vs. 

Juan Martin Del Potro

(ARG) [29]

David Ferrer

(ESP) [30] 

vs. 

Feliciano Lopez

(ESP)

Kevin Anderson

(RSA) 

vs. 

Nick Kyrgios

(AUS) [18]

Petra Martic

(CRO) 

vs. 

Madison Keys

(USA) [12]

 

Su-Wei Hsieh

(TPE) 

vs. 

Taylor Townsend

(USA)
---
Day 5-The Cream is Rising to the Top
5. Why do I find Djokovic's end of match antics with the ballkids so irritating. The gesture is sweet and it is nice to involve the ballkids, but it is just so staged. Save it for the end of a tournament if you make it. I hate to deprive the young volunteers, but enough already. Just like his latest PR swing, Agassi etal, this seems cooked-up in a marketing office.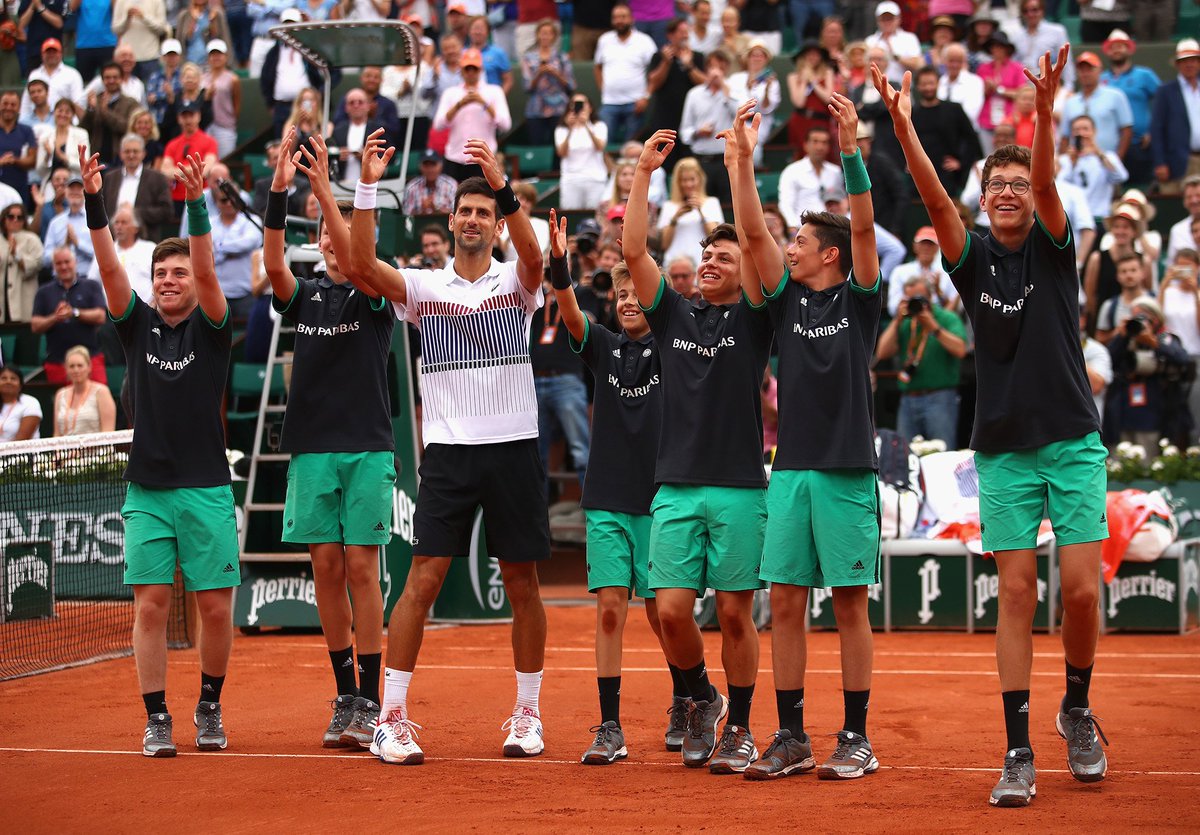 4. American CC Bellis' match with Wozniacki was pushed to tomorrow, so we will have to wait to see if the youngster pushes the veteran to a third set. At 6-2, 2-5 it was called for rain.
3. Bill Simons, "FEARING RUSSIA – A Tennis Player Speaks His Truth" is the most explosive tennis piece I have read in a long time. Though Ukranian Sergiy Stakhovsky has always been open and brutally honest even when his comments were sexists, in this interview he blows the lid on the tightly closed player doors. I wonder how his relationships with Russian players, will be moving forward.
2.  In his match against Zeballos, Goffin retired after a hideous ankle injury. Though MRI does not show any ligament damage or broken bones, the pictures paint a dire image. As an aside, when will the media stop pumping up simple acts of kindness as herculean acts of sportsmanship Del Potras, Thiem, etc…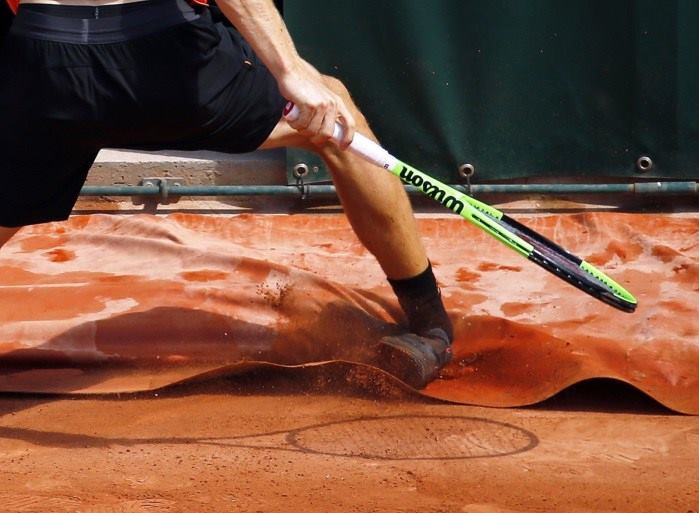 1. Top seeds, Nadal, Djokovic, Venus, Muguruza, Mladenovic and Kuznetsova all move on to the fourth round. Nadal crushed Nikoloz Basilashvili 6-0, 6-1, 6-0 in 90 minutes; Djokovic's anger at the scoreline and umpire propelled him to victory in five sets 5-7 6-3 3-6 6-1 6-1 over a spent and sore if not injured Diego Schwartzman; Venus cruised by Mertens in a little more than an hour 6-3, 6-1; Muguruza seems determined to defend her title as she fought through a tough first set with Yulia Putintseva to prevail 7-5 6-2; France's own, Mladenovic is giving it her all in her two hour 46 minute 7-5, 4-6, 8-6 win over American Shelby Rogers; it took Kuzetsova three hours and nine minutes to fell Shuai Zhang 7-6(5), 4-7, 7-5. The cream is rising, but it will it continue? Surely, Nadal has his eye on not Djokovic but Thiem!
Must See Matches Tomorrow
Andy Murray

(GBR) [1] 

vs. 

Juan Martin Del Potro

(ARG) [29]

Daria Kasatkina

(RUS) [26] 

vs. 

Simona Halep

(ROU) [3

Stan Wawrinka

(SUI) [3] 

vs. 

Fabio Fognini

(ITA) [28]
---
French Open Winners
What a tournament! While everyone expected Nadal to win his 'decima', no one expected the twenty year old Latvian Jelena Ostenpenko to win. While The Economist suggests that this win was no fluke for the teenager, she will have a lot of expectations on her moving forward. It was also nice to see an American, Ryan Harris, win the doubles with Michael Venus, though I was rooting for the runner-ups Donald Young and Santiago González. And then there is the dynamic duo of Mattek-Sands and Lucie Safarova who are on an incredible winning streak.
---
Check Out:
For tennis journalists daily diaries: Wertheim, Abulleil, Daily Serve (TC), Matt Cronin, Rene Denfeld
Best post from Tennis.com ever, "How to Make Coq Au Vin."
The outfits at the French Open are a bit disappointing, maybe everyone will up their game at Wimbledon.
Bouchard's has had a tenuous path to this tournament after an ankle injury.
Kuznetsova's coach Carlos Martinez talks ahead of Roland Garros.
Mary Carillo takes a look at Djokovic and Agassi's new coaching partnership.
Steve Tignor captures a pure and sweet truth in, "For Steve Johnson, and for Many of Us Watching, Tennis Means Family."
Sam Stosur hints at player boycott of Margaret Court Arena at 2018 Australian Open.
Reem Abulleil goes beyond Wawrinka as the outsider in her recent interview which depicts him as PR savvy, refusing to truly comment of Sharapova and complementary to his competitors.
WTA Addict has some round 1 preview and predictions that I whole-heartedly agree with, though I do think Keys will need three sets to take Barty.
Maxime Hamou banned from 2017 French Open for trying to kiss and grope reporter
In, Once More With Feeling, Kurt Streeter examines Federer's latest act of defiance.
Though Carlo Moya joined the Nadal camp early this year and will take over as his primary coach at the end of the year, on the eve of Toni Nadal's departure it is clear that Toni is still clamoring for his due.
Bill Simons, "IN SEARCH OF ANDRE – THE SAGA OF MY POP UP INTERVIEW WITH AGASSI" is good read on the latest hyped coach/player relationship.
Kvitova still does not have feeling the two fingers that were damaged in the home invasion.
http://www.tennis.com/pro-game/2017/06/kristina-mladenovic-garbine-muguruza-french-open-2017-monfils-gasquet/66589/
http://tennischannel.com/news/top-stories/watch-the-daily-serve-your-cheat-sheet-for-day-8-in-five-minutes
https://www.si.com/tennis/2017/06/03/french-open-2017-midterm-grades?utm_campaign=si-tennis&utm_source=twitter.com&utm_medium=social&xid=socialflow_twitter_si
http://www.smh.com.au/sport/tennis/john-mcenroe-makes-light-of-margaret-court-samesex-marriage-saga-20170604-gwjyxa.html
In Memoriam, from Billie Jean King…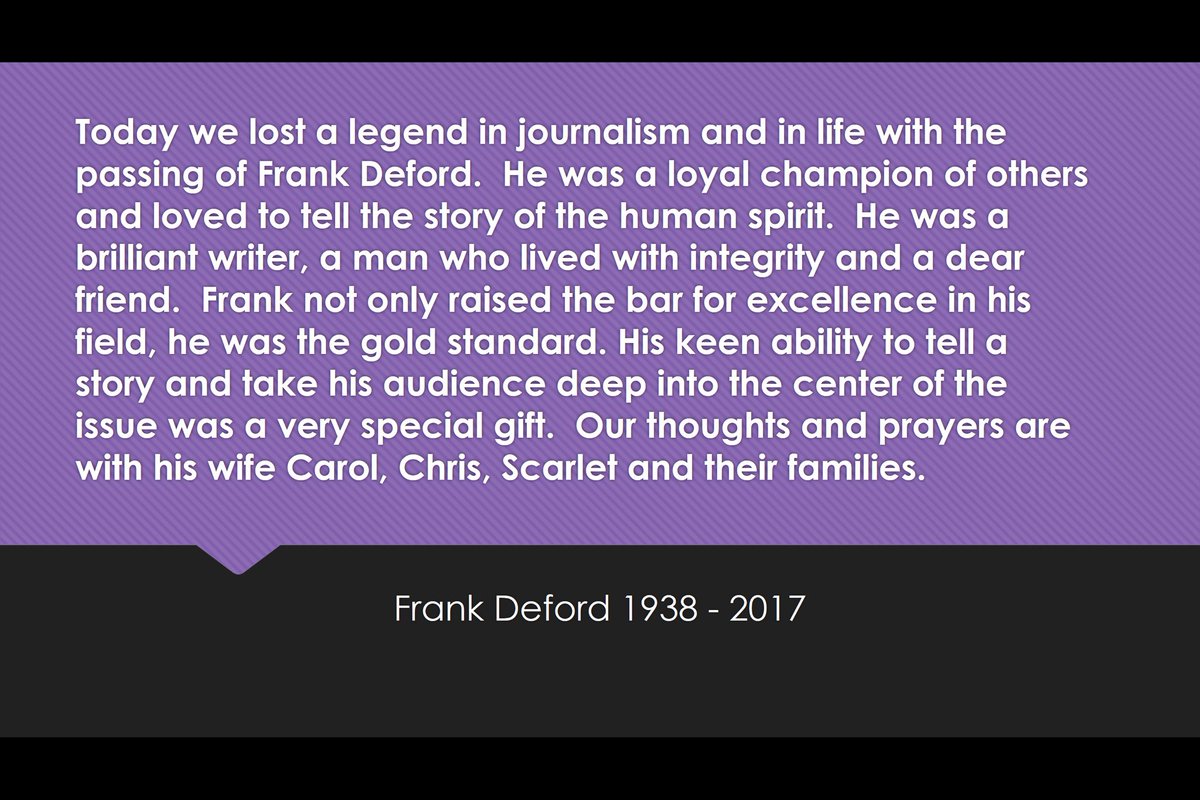 ---
Next Week:
Mercedes Cup (Stuttgart, Germany/Outdoor Grass/250)
Ricoh Open (Hertogenbosch, Netherlands/Outdoor Grass/250/International)
Aegon Open (Nottingham, Great Britain/Outdoor Grass/International)
What were your top tennis moments this week?